If you had never heard of Junior Achievement of Arizona until today, don't worry; you're not the only one. A lot of people have yet to realize that there is an organization out there that is making a different in thousands of student's lives simply by teaching them economics and finances.
Junior Achievement of Arizona is a not-for-profit organization aimed to aid students in not only their general education, but financial future as well. They have been making a difference in children's lives since 1919 with offices in Tempe and Tucson.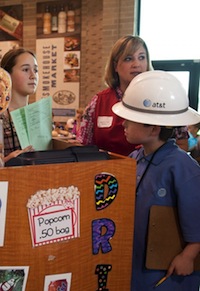 Junior Achievement launched JA BizTown in 2007. A student sized town built to enhance students understanding of real world practices. Students are required to write checks, pay their bills, and make financial decisions.
While public schools prepare student for a higher education, Junior Achievement educates students on how to generate and effectively manage wealth.
As a single mom, and daughter of a single mom, I know the hardships that come with not being financially educated and not knowing how to make the right decisions when it comes to money. I know that attending a program like Junior Achievement has to offer would have helped me in becoming more familiar with economics and finances.
I want to be able to teach my daughter that there is a whole world that general education does not teach her. I want her to be able to put her foot in the water while she's young, rather than being thrown when she is sent off to college.
Junior Achievement taught almost 100,000 students in Arizona last year. Their goal is to teach up to 150,000 students this year.
To learn more about Junior Achievement of Arizona visit their home page. Find out how to sign up and visit one of their locations. You can also donate to this organization and make a difference in thousands of students' lives.