Shark Tank's Daymond John Creates Blueprint to Success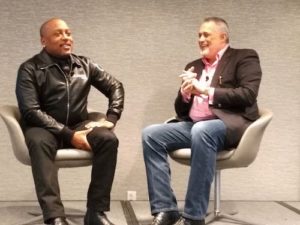 Daymond John is affectionately known as the People's Shark of ABC's hit show, "Shark Tank."
SmartFem.com was fortunate enough to meet John last year in Phoenix while covering his book signing for his new book, "The Power of Broke."
And recently in New York John was the special guest of C-Suite's Jeffrey Hayzlett, where he talked about the Hero Club and his new endeavor, Blueprint & Co.
Blueprint & Co. is a co-working environment in Manhattan with contemporary, open workspaces for established and up-and-coming influencers, executives and corporations created by John himself.
The purpose of Blueprint & Co. is to create a network of influencers, disruptors, visionaries and thought leaders.
One of the most impressive things about Blueprint & Co is the concierge. They provide tools and resources not normally found in a co-shared environment.
John's attention to detail is apparent. Some of the resources include access to funding, strategies for scalability, legal and trademark services, marketing, production, and tax services.
Blueprint & Co. is fostering an executive open workspace where opportunity meets innovation. There is a built-in community with innovative thought leaders to help you scale your business.
The design of the building is spectacular. The 20,000 square foot flexible workspace is located in the highly coveted Garment
District in NYC. The design is contemporary-urban, and you can see John's attention to detail everywhere.
The facility has ergonomic Varidesks, beautiful conference rooms, private phone booths, and a lounge. The facility has two private rooftop terraces with views of Manhattan and the Empire State Building. 
For more information, or to find out how you can rent office space and take your company to the next level, check out their website at www.blueprintandco.com.