SmartFem publisher Lea Haben attends the 12th Annual Teaming Up for Girls Luncheon and writes about her experience sharing a table with keynote speaker Elizabeth Smart during the Florence Crittenton fundraiser.
I love my job as a writer and journalist but sometimes I find it intense and painful to witness especially when children have been involved. My heart is forever broken when it comes to JonBenét Ramsey, Polly Klass, Adam Walsh and countless other children who have been the victims of such senseless violence. The Elizabeth Smart abduction really affected me in 2002 as I have a daughter about the same age. At age 14, Elizabeth was only three years older when she was taken from the presumed safety of her bedroom.  I remember praying for her safe return and I spent many nights thinking about her poor family and the agony they must have felt. The search for Elizabeth went on for nine months and we were all so relieved when she was found and safely returned to her family.
I recently had the opportunity to meet Elizabeth and see her speak at the Florence Crittenton Teaming Up for Girls Luncheon this week.  I also had the privilege to talk to her for a few minutes as I sat at her table.
At times it was difficult to listen to Elizabeth speak as she described her abduction from her family home on June 5th in 2002.  We've heard the story in the news but coming from Elizabeth directly was so different.  My heart stopped when she described that her little sister was sleeping in the same room and although Elizabeth knew she was left sleeping she wasn't sure if the rest of her family was even alive.
The news and media gave us all the facts but hearing Elizabeth personally describe her recollection of the horrific circumstances made it all too real for us as we listened intently. In person Elizabeth is a beautiful young woman well beyond her years.  Her choice to use her experience to help others is very inspiring and quite brave in my opinion.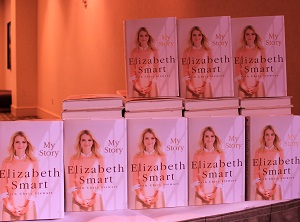 Elizabeth has penned her memoir; a book called My Story in 2013 with Chris Stewart, a bestselling and award winning author, and has also become an activist. In 2006 she went to Congress to support the sexual predator legislation for the AMBER Alert system and in July of 2006 Elizabeth spoke as the Adam Walsh Act was signed into law. Since then Elizabeth Smart continues to speak publicly and support victims of crimes and other issues involving women and children.
Elizabeth Smart has spoken on human trafficking at Johns Hopkins University and fights for individual self-worth. Last month she testified before the Utah State House of Representative in favor of HB 286, a bill that would create a non-mandated curriculum for use in Utah schools to provide training on sexual abuse prevention.
On a personal note Elizabeth is happily married to Mathew Gilmour, a native of Scotland she met while serving as a missionary in Paris, France.
What I really enjoyed about meeting Elizabeth is that she has used her heart-breaking story to become a champion for others.  She is a smart beautiful young woman who will touch everyone who comes in contact with her. I expect we will see more great things from Elizabeth Smart.