The 12th Annual Teaming Up for Girls Luncheon brought hundreds to people together to have an afternoon full of entertainment, education and fundraising.
The Teaming Up for Girls Luncheon is Florence Crittenton's well-known fundraising event. Florence Crittenton is a non-profit organization aimed to help at-risk adolescent girls in their journey through life. They offer an environment that empowers young ladies to feel safe and find hope.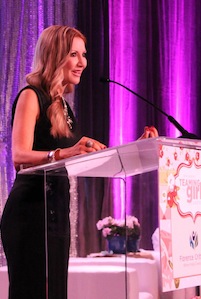 This years annual event was hosted Tuesday at the Arizona Biltmore. Hundreds of attendees joined together under one roof to raise funding for an amazing organization.
Carey Peña emceed the event, and let people now how important this organization is for the good of the community. "I love meeting with the girls and learn how their lives are inspired," she said.
The chairs for this year's luncheon were Tracey and Larry Lytle. They have been involved with Florence Crittenton for over a decade and this year had the honor of overlooking the whole event.
The events performer was 10-year-old Moriah Paynes. She amazed the crowd with her incredible voice and even received a standing ovation at the end of her performance.
This year's keynote speaker was Elizabeth Smart. Elizabeth was abducted from her house when she was only 9-years-old and was rescued nine months later. She became an author and public speaker influencing people around the world with her touching story and book titled My Story.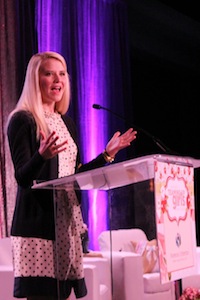 Deborah Bateman, who is on Florence Crittenton Board of Directors, was thrilled about the event. "It is an absolutely incredible organization," said Deborah. "When they really make an impact, and they really make a change, that's what inspires me," she added.
More exclusive photos on Facebook  
Florence Crittenton has had a great impact on the lives of thousands of teen girls in the community. Thanks to the generosity of so many people, Florence Crittenton is able to make a difference in young women's lives. Learn how to make a difference at http://www.flocrit.org or follow the link to donate today.
Among the generous donations to help raise funds during the 12th Annual Teaming Up for Girls Luncheon…

A custom fur ladies purse donated byMichelle Parkhurst of Evans Furs of Scottsdale.

A date night gift basket for two donated by Ruby Farias of Me the Artist of North Scottsdale.

An autographed Fender Guitar and photo signed by the legendary Alice Cooper donated by Coye Pointer, of Airpark Chrysler, Jeep, Dodge RAM.