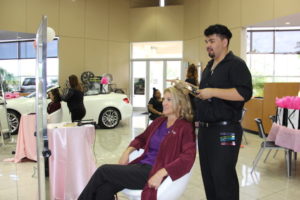 Everyone knows October is Breast Cancer Awareness month and the time to wear pink, but what people don't know about are the two companies in town that join together every year, impacting our local community and raising awareness.
On October 16, 2015, Coulter Infiniti in Mesa became a place for women to come together and get their hair and makeup done while waiting for their mammogram. Today, the Day of Glam event provides women with a sense of relaxation before an otherwise stressful exam. In addition, Coulter Infiniti also donates a portion of new car sales to breast cancer research.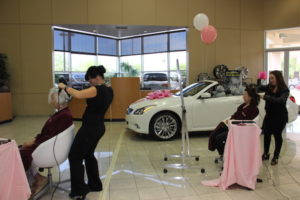 Having so many friends and family members devastated by breast cancer, I was thrilled to cover this event. And lucky for me I was finally able to have my mammogram done, after having to reschedule my exam twice this year due to a crazy schedule.
Tony Pennachio, General Manager of Coulter Infiniti, has been a longtime supporter of women's and children's causes, and has sponsored other events such as the Go Red Event for the American Heart Association, and Camp Soaring Eagle, a free year-round camp for terminally ill children. In addition to Coulter Infiniti's philanthropic efforts, they are also one of the first dealerships to go through the High Heel Certification program, ensuring women the process of buying a vehicle on their own is comfortable and non-intimidating.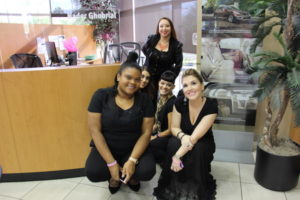 Rolf Lohse and Francis Tesmer of ROLFS Salon brought their team of experts to help make the experience just a little more special. Rolf and Francis have been longtime supporters and advocates for women's health, and have sponsored and participated in a number of valley charities such as the GlitzGlamGive Oscar Experience for the Arthritis Foundation, and Alice Coopers' Rock the Runway for Triad Goodwill, to name a few. Rolf has been making women feel special for decades, and it was no surprise that the women who came in to get pampered left with a little gift bag on their way out.
For those of you who don't know breast cancer is the leading form of cancer for Arizona women. According to MobileOnSiteMammography.com, an estimated 2,800 women will be diagnosed, and 600 women will die in our state as a result of breast cancer. One in seven American women will be diagnosed with breast cancer in her life time.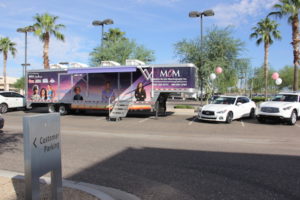 While there is no cure for breast cancer in its advanced stages, early detection is a proven line of defense. Coulter Infiniti and ROLFS Salon have teamed up for the last three years for the Day of Glam event, including the MOM van, or the Mobile On-site Mammography mobile.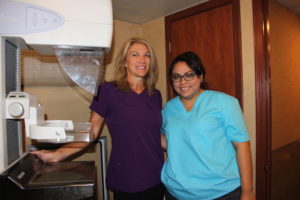 We all get extremely busy in life. We manage to take our car in for an oil change, or find time to get our hair done, but we never seem to have time to schedule the more important appointments like our annual mammogram. As I spoke with some of the women who attended, I found out they too hadn't found time for their annual mammogram, and one woman had never had one done. Let's face it, getting our annual mammogram is always stressful. Bravo to Coulter Infiniti and ROLFS Salon for making it a little more convenient, and lot more fun.