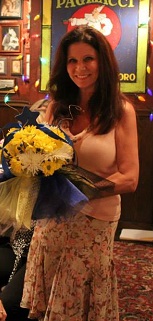 Debbie Gaby is a happy woman.  Not only is she the President of Sleep America, but she is an avid giver to charity as well.
With so much on her plate, specifically with her Celebrity Catwalk event coming in November, how does she maintain her positivity throughout the ceaseless mattress industry?
"I'm just a naturally happy person and I love life," Gaby said with a bright grin on her face.
For Gaby it is as simple as that. "I love what I do," she reiterated.
But what exactly does she DO?
Gaby does infinitely more than her titles suggest. "I'm on a lot of boards," she said.
The connections and contacts made through these boards, "helps Sleep America  in these challenging times."
She is most passionate about doing the charity aspect of the company as well, and due to that, she founded the Sleep America Charities in 2004. "One of the founding philosophies is that Sleep America will give back to the community that supports us. A large amount of our profits go back to the community," Gaby said.
"We sell a lot of mattresses and we give away a lot of the mattresses. I think I'm most passionate about the giving away part," Gaby mentioned. She said that Sleep America will always give back and that charity is a "core value" of the company.
"We love to give back and in return we are getting the greatest gift that you can get," Gaby said.
"I just brought in the softer touch," she said of the starting the company with her husband,
In addition to charity, Gaby is also a role model for women. She is a self-proclaimed, "Tough lady." After all, she said she is often times the only woman who attends meetings. "At first I didn't have the respect. I had to kind of earn the respect."
Eventually, Gaby said, she would be able to enter a room or meeting and the others would stand up. "It really makes you feel good when you go from 'nobody wants you in the room,' to they all want to hear what you have to say."
"Women can juggle more than men. You have to be a balanced person to know that your family really comes first.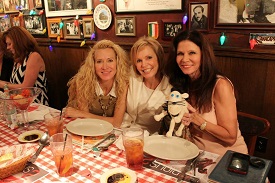 Gaby's one pet peeve about her career is that she never has enough time for everything she wants to do. "I want to do it all," she said. "Nothing is beyond me ,I've done it all. You're not too good to do anything that needs to be done. I do have a huge team. I can't take all the credit."
Gaby's team is her support system and they help her in accomplishing all the good deeds she dedicates herself to fulfill.
"It takes a great team. They support me in what I do with my efforts. I guess that is one of my blessings. The mold that we have is a genuinely good mold," Gaby said. "I try to surround myself with people who I genuinely like." We make Sleep America a wonderful place to work by living up to our core values!
As far as the exclusive glamorous event that is Debbie Gaby's Celebrity Catwalk goes, Gaby is excited but mentioned, "Anything worth having, there's a lot of hard work that is behind it."
"We always have one real movie star," Gaby said about this year's 8th Biennial  Catwalk. This year Valerie Bertinelli will be receiving the Hope Award as well as being the big name celebrity guest. Many local and national names will attend as well.  Kari Yatowski will be receiving the Community Leadership Award. Some of the confirmed celebrity models are Mayor Greg Stanton, news personalities Catherine Anaya, Sean McLaughlin, Fay Fredricks, and Gina Maravilla. They will be strutting the catwalk wearing lovely ultra-stylish clothing.  Rolfs Salon will be doing all of the hair and make up for the celebrities.
"Dillard's provides all of the fashion. They accessorize and make it phenomenal," Gaby said. For this year's Celebrity Catwalk, E and J Shoes will provide unique and stylish footwear for the models.
Being a charity event there will be auctions, prizes and, of dream boxes. "We encourage people to come and do whatever they can whether it's volunteering or writing the check," Gaby said.
She advises SmartFem readers to always be aware of what is going on around you. "Every day is a new and different day. Stay on top of it," Gaby said.
Gaby is an inspiring woman who works for everyone's best interest through her charity work as well as through Sleep America as a company. "I think that doing good, is good business," Gaby added.