Hope For A Better Tomorrow
Every so often you come across a group of people whose main goal is to help those in need. They dedicate themselves and devote their time to serving others.  For one organization in Arizona, they're not only impacting their communities, but they are changing lives.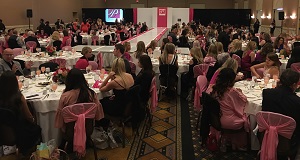 Last Friday, Arizona Assistance in Healthcare gathered for their 4th annual Project Pink Luncheon.  This event provides the organization with the opportunity to bring awareness on financial struggles often associated with cancer treatments, while fundraising to help those in need.
President of Arizona Assistance in Healthcare, Meredith McGuire shared, "There are a lot of groups out there that raise money to do cancer research, but there aren't necessarily a lot of groups out there just to help people with their non medical needs. The money we send out in the form of a check is sent out for a monthly grant. This cancer patient is not getting a study or research; they're getting actual money in their mailbox to help pay their bills. When you're in the middle of a crisis, it makes all the difference."
Vice president of hospital growth at Cancer Treatment Center of America and Executive Advisor of Arizona Assistance in Healthcare Molly Stockley added, "You can be treated at any hospital and if you need dollars to help you with daycare, rent, mortgage, groceries, this is the non-profit that helps with that.  The stories I hear of the single moms who have to choose between feeding their children, or going to chemotherapy, buying Christmas presents, or getting groceries, we get to help them. All the money raised from the live auction today, goes directly to those children for Christmas. So not only will these people be getting 250 dollars a month, they're going to get an extra 50-100 to buy Christmas presents."
Friday's event wasn't just a chance for the community to gather over lunch, but was an opportunity to magnify voices that are often silenced or hesitant to speak up. Vice President of Arizona Assistance in Healthcare, Tracy Hernandez expressed the importance of having events that focus on the needs of the community. Hernandez shared, "Events like this focus on the need of each individual within our community, when they're not willing to voice up, and when they need help and financial assistance." She went on to state, "People who are here and sitting in those seats can really relate, they've either had a loved one or a friend that knows a loved one who's been touched by cancer."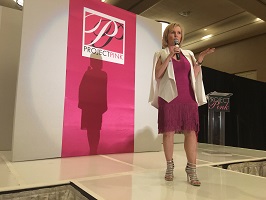 As many fellowshipped over food and entertainment, they were reminded that you can triumph over your trials. Honorary Speaker, Lea Woodford of SmartFem Media graced the stage as she shared her cancer story. Woodford reminded the audience that life will throw you curve balls, and there will be times that you feel defeated. In these moments you have to stay positive, and always fight for the change you wish to see.
Project Pink was a success as it not only informed the community on how they can become involved and help those in need, but it also raised about 44,000 dollars to go towards grants for patients.
Executive Director of Miss Arizona USA Pageant, Britt Boyer expressed her excitement with being involved in the event this year. For the first time, the teens of Miss Arizona USA Pageant were showcased in a fashion show. Boyer shared, "We are social people, we should be in relation with other people. It's a great opportunity to bring other communities together from different walks of life. This to me is a fun event, it celebrates life, it celebrates triumph over struggle, it also empathizes and cries with you during the struggle and after a loss."
Arizona Assistance in Healthcare provides hope. It doesn't just touch those who are directly impacted by cancer, but it also touches their families. A little goes a long way, and the help this organization is providing for the community doesn't go unnoticed. As Britt Boyer shared so elegantly, "When a candle lights another candle, there's that moment when the light is brighter and then neither light is diminished. The only way anything will change is if one person reaches out to another and lights that spark." If we would all move and take action, can you imagine the light we'd create? Change doesn't just happen. It takes one person, which eventually will turn into a community.  Let your light shine individually, but also make sure to reach out to another, and create a spark.