Sleep America, Tempur-Pedic, and U-Haul teamed up to donate over 150 mattresses to charitable organizations. Some of those organizations included Boy Scouts of America, U.S. Vets, UMOM and several others. Representatives from each organization showed up to the Sleep America Warehouse to personally thank Sleep America and Tempur-Pedic for their phenomenal donations.
Debbie Gaby, President of Sleep America had a lot to say about the reason behind her support towards these amazing organizations. "When you collaborate with the recipients you really get to learn the inside story of how people are helping themselves," said Debbie. Giving people the ability to get a good night's rest is something that Debbie takes very seriously. To her, it is the foundation to those individuals' better performance tomorrow.
Tempur-Pedic representative, Travis Wilson was proud to be at the warehouse to present the organizations with their mattresses. Tempur-Pedic has a nationwide program that provides mattresses to numerous charities. "When we had the opportunity to donate more mattresses I initially thought of Debbie," said Travis. "It's a great working relationship for everybody, so it's pretty awesome," he added. Travis was pleased to be able to personally meet the representatives of the recipient organizations, and was honored to be able to present them with incredible donations totaling up to more than $300,000.
U.S Vets is an organization that Debbie is pleased to aid in every way she can. John Scott, Executive Director of U.S. Vets, was thrilled to have received a call from Debbie informing him that the organization would receive dozens of Tempur-Pedic mattresses for their Grand Avenue facility. About 20 veterans from U.S Vets showed up at the Warehouse to lend a hand in loading U-Haul trucks with mattresses they would be installing in their facility. John was proud to say that in the last year U.S. Vets went from helping 70 veterans to 270.
Boy Scouts of America was another one of the lucky organizations that was picked to receive mattresses to help their organization grow. Suzanne Herrmann, Director of Support Services/CFO, was proud to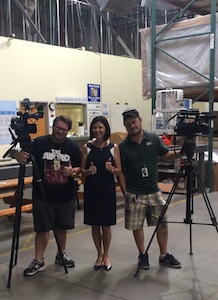 represent her organization during this event. The beds were being delivered to Payson yesterday afternoon to Camp Geronimo. The mattresses will make a difference many boys' lives, as thousands of boys visit the camp between the months of June and July.
An organization close to Debbie's heart is UMOM, Arizona's largest family homeless shelter. Kate Thoene, Chief Social Enterprise Officer, was full of immense gratitude towards Sleep America, Tempur-Pedic and U-Haul for providing the shelter with not just any mattress, but Tempur-Pedic mattresses. "The feedback that we get from the families is immediate… they are filled with joy and gratitude," said Kate.
While each organization had a different story to tell and a different way of expressing their gratitude, it all came back to one thing, dignity. Giving back is a great back to show your community you care, and showing each individual that they are not alone.