A backyard party doesn't need to be stressful and most definitely does not need to break the bank. Here are a few tips and tricks to throwing a backyard get together your guests will enjoy and talk about for days to come!
Decorating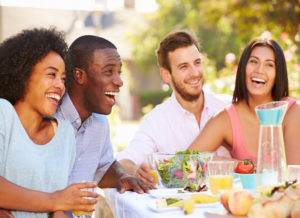 the table can seem like quite the daunting task but ask yourself, what do I have around the house that can dress this up? One of my newfound favorite outdoor table decorating tricks is to use unfolded newspapers as a runner down the center of your table.
Once your table is covered in a normal or disposable colored tablecloth, not only are you adding a little flare and saving yourself from spending money on an expensive runner, the clean up takes virtually no time! Another table decorating secret is to use old bottles and long stem flowers to create centerpieces. By using old glass bottles such as wine or liquor bottles, you are creating a make shift vase and spicing up the table with a little something more than just a clear glass.
Every host or hostess feels obligated to send guests home with a party favor, here is a way to kill two birds with one stone. Pick up a set of mason jars and gift name tags from your local craft store or superstore, fasten a name tag to each jar and display them at the entrance of your party! This way everyone has a glass for drinks ready to go and a personalized party favor to take home, classic and understated for under $15 per 12 guests!
Last but certainly not least, the summer months bring along one of everyone's least favorite creatures, mosquitoes! Instead of spending your money on expensive lights or spending way too much of your time trying to untangle the Christmas lights stored on the very top shelf of the garage, consider purchasing a pack of Citronella tea light candles. These small candles are able to be scattered around on your table and throughout other areas of the backyard, they are known for their bug repelling properties and are sure to keep your party lit and your guests from itching the night away!
Throwing a backyard party does not have to be an expensive practice or one that makes you feel too overwhelmed to enjoy your own planning! Decorate smart, with items from around the house or cost effective ones that are budget-friendly. Finish your perfect party off with a special menu featuring a selection of summery cocktails for the mason jars and sweet treats for the kiddos. And don't forget the most important thing, be a guest at your own party!