The annual Barrett-Jackson auto show in Scottsdale hosted its opening night gala Monday evening.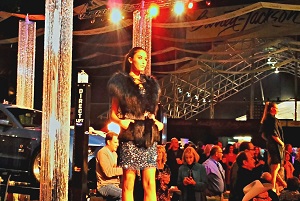 Last night's event had something for everyone even if you aren't a car buff, although I confess that I still love American muscle cars after all these years. If you've ever had the opportunity to attend a Barrett-Jackson event you know that aside from the amazing collection of automobiles, the people-watching is amazing.
The official Gala invitation suggested "cocktail attire" so it's always interesting to see the variety of clothing is which is second only to the variety of antique and custom cars.  It was extremely cold last night so there were many elegant women clad in furs and stylish coats.  Diamonds and furs were a theme throughout the night with both the attendees and the runway models of the fashion show presented by Saks.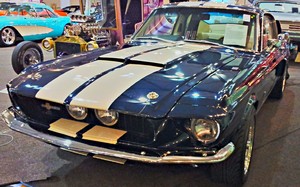 The cars, as always, were the centerpieces of the night and I find I still have the same love for the old Ford Mustangs, which are prevalent at Barrett-Jackson this week.   Looking at the cars took me down memory lane. There was the original Batmobile from the TV series with Adam West and cars that my father and uncles had when I was growing up.
I have had the opportunity to go to Barrett-Jackson many times over the years but last night's event was special as they paid tribute to one of my heroes and an American icon in the automotive industry, Carroll Shelby, who passed away last May. Carroll Shelby had been a racecar driver and also has helped to inspire and design some of the most beloved American muscle cars ever manufactured. Carroll has been a part of Barrett-Jackson for years and it was touching to see his amazing life highlighted.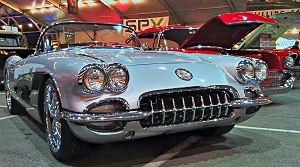 The cars may have gone more high tech over the years but these cars are classics and are able to transport you back in time.  If you haven't had the opportunity to attend the show, it's worth the trip this week.
The Gala itself was an amazing night with fine food served by local restaurants and an open bar with admission.  As the night wore on, the dance floor livened up and the band drew the crowd in.  I always look forward to the Barrett-Jackson auto show coming to Scottsdale and with the announcement of a permanent facility to be built for next year's show, we can be assured of many years to look forward to.