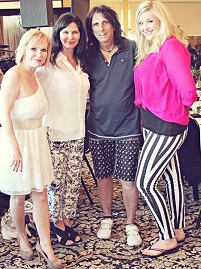 To say that it can be a scary world these days is an understatement…especially for many teenagers. But there are still some heroes out there who do what they can to make a difference. I am proud to say that I have had the honor and privilege to work with Alice Cooper's amazing team at his recent Solid Rock fundraisers. It is so refreshing to see people come together for the benefit of others.
Legendary rocker Alice Cooper is Mr. Nice Guy. He uses his celebrity status to create a program that keeps underprivileged Phoenix teenagers safe. For years Alice and his wife Sheryl Cooper have championed the cause to create a safe and fun place for teens. That dream was realized last year with the grand opening of Alice Cooper's Solid Rock in Phoenix, AZ.
In addition to being a rocker, Alice is so also a skilled golfer and he puts together charity golf tournaments to raise funds and awareness for Solid Rock.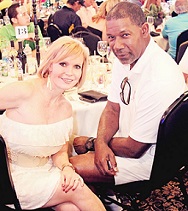 Last weekend Hollywood celebrities as well as professional athletes came together to show their support. It was an amazing array of high profile people coming together for charity. Some of the celebrities who attended were: John O'Hurley of Seinfeld, Rob Morrow of Northern Exposure and Numbers, and celebrity Allstate Spokesperson and actor Dennis Haysbert, just to name a few.


This year the ladies were also included in the fun and attended a Rock the Runway fashion show hosted by SmartFem magazine. The theme was 1940s retro/rockabilly with a little edge. The fashions were modeled by Sheryl and Morgan Cooper and the Solid Rock dancers. Lea Haben, publisher of SmartFem was the emcee and the fashions were provided by Stinkin' Cute Boutique of Mesa, E and J Shoes of Scottsdale, and by Evans Furs and Fine Leathers of Scottsdale. The attendees were all treated to some incredible swag bags which included earrings courtesy of Kendra Scott Jewelry. Rolf's Salon and Spa also did an amazing job on the hair and makeup for all the models.
The team of winning golfers were each treated to a customized leather jacket courtesy of Evans Furs. It was an exciting and successful event thanks to everyone who attended and showed their support for charity and also to Alice and Sheryl Cooper for their generous philanthropic efforts to make the Solid Rock Foundation a reality.
For more pictures, check out SmartFem's Facebook Page