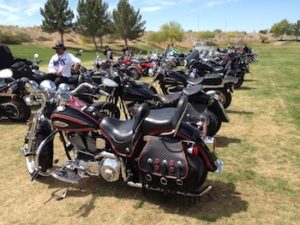 Music, automobiles, sports, sun, food and drinks. The Fiat of Scottsdale Rugby Bowl: Spikes and Spokes, "The Valley's  Best New Event," offered all of this and more on Saturday, April 12. The successful event brought together two of the fiercest players on the field and the road, rugby and motorcycles, to the WestWorld of Scottsdale for the first time.
As guests entered the space, they were met with the smell of gourmet food trucks and the sound of motorcycles, which were lined up for the event. Bikes for Boobies, a nonprofit that raises awareness for breast cancer among the biker community, auctioned off a bike with funds to go toward cancer research.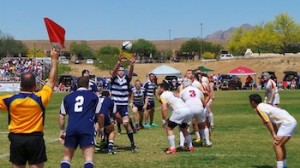 Meanwhile, Whiskey's Quicker rocked out in the World of Beer Garden before the game to get fans pumped up. The sound of classic rock welcomed the Arizona State University and Brigham Young University rugby teams to the field. To escape the sun while enjoying the game, guests were invited into their choice of an ASU, BYU or Beer Garden tent, which offered plenty of drinks and shade. During halftime, ASU fans challenged BYU fans to multiple tug of wars. ASU put on a tough fight against the No. 1 ranked BYU rugby team, but lost with a final score of 57-26.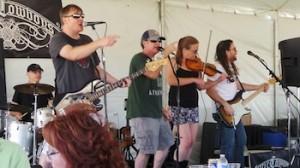 After the game, guests gathered at the after party to listen to Irish rock band The Keltic Cowboys perform and to enjoy delicious beer among great company. The event was a hit with the community, and ultimately brought together culture, sports and revenue back to the city of Scottsdale.