Calling all movie and fashion lovers to the stage! If you're a fan of the old Hollywood films, such as My Fair Lady and The Wizard of Oz, or even more recent films like Twilight and American Hustle, then head over to the Phoenix Art Museum today. The museum is currently featuring The Hollywood Costume exhibit, complete with over 100 costumes from a century worth of films.

The Hollywood Costume exhibition "celebrates and explores costume design as a key component of cinema storytelling," according to the site. As you enter the exhibit, you are met with large red curtains and immediately taken into a world of costume design and filmmaking. Unique about The Hollywood Costume exhibit is its use of technology, projections and holograms to tell the story of each and every costume featured. The exhibit also provides interviews with some of Hollywood's most famous costume designers, who describe the importance of their role in the storytelling process. These designers explain how something as simple as a shoe or as complex as an old-century ball gown can make or break a film by convincing the audience of the time period and character dynamic. Actors such as Robert De Niro and Meryl Streep agree that having the right costume is what allows them to fully get into character.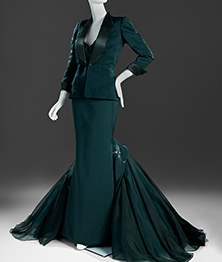 While walking through the large exhibit, you will get the chance to see Indiana Jones' famous leather jacket and whip, Darth Vader's infamous black cape and mask, Dorothy's girly checkered dress and Marilyn Monroe's seductive white gown, just to name a few. If you want to take a break from looking at movie character's costumes, then you can also head to the museum's Hollywood Red Carpet exhibit. This separate exhibit features a dozen couture gowns worn by Jennifer Lawrence, Glenn Close and Amy Adams on the red carpet.
Celebrate the art of filmmaking and what makes Hollywood one of the most fashionable and entertaining places in the world. Get your tickets here or visit the museum today.