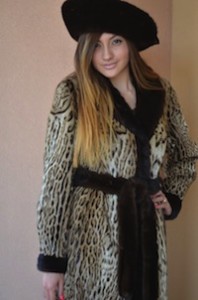 Even with Arizona heat making a scene almost year around; furs continue to make statement pieces for those confident enough to rock them, and Evans Furs is the go to place for high quality furs.
For Evans Furs, spring is the perfect time to introduce some vintage pieces new to the store. With so much leopard print, reversible pieces, and even vests, the new vintage collection does not disappoint.
The spring vintage collection will be available at Evans Furs for a limited time. So make sure to visit their location before they are gone. Stop by to witness a part of history, as these vintage pieces are what some consider to be a work of art.
If you're interested in quality vintage furs Evans Furs will not let you down. Conveniently located on Scottsdale Road, Evans Furs is unlike any shop. The employees make you feel at home allowing you to shop at your own pace and try on the product, giving you the security that you are making a great purchase.