Mamiko Odegard, PhD Love, relationship and self-esteem expert
www.ACTon Love.com
Have you arrived financially and occupationally,
but find your relationship is on empty?
ACT on LoveTM is where high-level professionals turn when they face relationship challenges or want to step up their goals or performance. The overall quality of our lives is predicated upon developing certain "soft skills" in attaining healthy love, relationships and personal performance in life and business! Dr. Mamiko Odegard offers a unique approach to help clients accelerate this personal transformation and become EXTRAordinary versions of their best-self. Starting with awareness and fast-forwarding to mindful loving of self, intimate partners and other peers, friends, and family members. Mamiko has helped thousands of individuals and couples create the lives they've always wanted.  Experience for yourself how she can take you to happiness, love, and success that before were unimaginable.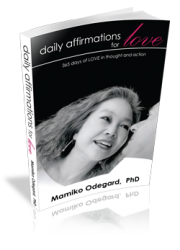 You will be inspired by Mamiko's "practice what you preach" approach to relationships.  As the best-selling author of Daily Affirmations for Love:  365 Days of Love in Thought and Action, she remains married to the love of her life of over 40 years.
You can experience the magic of becoming EXTRAordinary by connecting with Mamiko and accepting her bonus items listed below. To honor Smart Fem readers and fans, Dr. Mamiko offers gifts valuing $497, including:
An except of her book, Daily Affirmations for Love
Checklists to decide if you've found True Love and to identify if you're in another Bad Relationship.
A Complimentary Discovery Consultation to jump-start you to the love and life you deserve.
ACT on LoveTM now by claiming the gifts that will show you the ways to becoming an EXTRAordinary You!