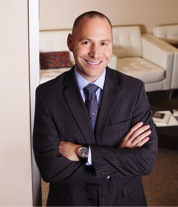 Dr. Richard Joseph Brown "Dr. Rick" began his practice in the specialty of Plastic and Reconstructive surgery after an intense twelve years of training. He is double board certified in both General Surgery and Plastic Surgery. Originally from Atlanta, Georgia Dr. Rick now serves the Phoenix area and has practices in Scottsdale and Sun City West, Arizona.
After earning his undergraduate degree from the University of Georgia, Dr. Rick moved to Chicago where he earned his medical degree from The Chicago Medical School. While there, he was president of the Student Surgical Society. He completed his General Surgery residency at Northwestern University in Chicago and spent one year dedicated to wound healing and scar research with Dr. Thomas Mustoe. That year, he wrote and published papers in one of the top Plastic Surgery journals, Plastic and Reconstructive Surgery. He graduated and became certified by the American Board of Surgery. Dr. Rick finally completed his residency training in the field of Plastic and Reconstructive Surgery at the University of Nebraska Medical Center in Omaha.
Dr. Rick was drawn to the field of Plastic Surgery because of the broadness of this specialty. He loves performing reconstructive work, as well as cosmetic procedures. He loves this challenging specialty because it requires innovative thought and is always changing. Dr. Rick feels it is a privilege to do what he does everyday.
Dr. Rick's goal is to treat every patient as he would a member of his own family, with respect and compassion. He strives to be self-critical of his work, so that at the end of the day, he can say he did his best.
Our practices are located in Scottsdale, Arizona, as well as Sun City West. Dr. Rick specializes in cosmetic and reconstructive surgery of the face, body and breast. He wants you to be able to communicate openly and feel comfortable during your visit and takes your safety and privacy very seriously. Ultimately, Dr. Rick's success is judged by the satisfaction of his patients and he is committed to that goal.

480-947-2455
Scottsdale
 | S
un City