We all know the way our pets make us feel. Aside from the slobber, licks and bathroom breaks, animals are just one furry ball of love who will remain loyal to us and be there when we're feeling sad.
Pam Gaber has always been an animal-lover. Growing up, her favorite pet was a black and white party poodle named Fluffy who told her she was always right.
"I always had an affinity for animals," Gaber said. "I just feel that dogs have a little bit of an edge in an ability to relate to people than other species."
After 15 years working for "corporate America," Gaber needed a change. She was employed with a human pharmaceutical company in their animal health division and called the hotel her home, knowing little about her neighbors or her community. Despite feeling like she had reached her career goals, Gaber said she wondered what was left.
"It wasn't fulfilling like I thought," she said. "I had this deep desire to reconnect with my community."
The next step for Gaber? To quit her job and adopt an adorable Weimaraner puppy named Gabriel. When the pair first met, Gaber remembered Gabriel being the calmest one in the litter and the only one who didn't bite or jump on her. Like most pet owners, Gaber said it was an easy choice to bring her pup home with her.
"There's something about Gabriel's eyes, [they] were a limitless pool of understanding," she said. Little did she know this puppy would change her life.
At the time, Gaber was volunteering with abused and at-risk children at the Phoenix Crisis Nursery. She began telling them stories about her new puppy Gabriel that brought excitement to the children's day. Eventually, she decided to introduce the children to him at the annual Christmas party.
She dressed him in a jingle bell collar, reindeer antlers and a "Just Call Me Rudolph" t-shirt, saying "my only intention was I want everyone to finally meet him." Gaber recalled Gabriel being a good sport about his costume and not even trying to take it off.
What she saw when she got to the party were the children instantly transforming from angry and violent to empathetic and compassionate. A shy little boy who had been crying with tears still streaming down his face even came over to give Gabriel a big hug, Gaber recalled. What an animal can do for an adult, it does 10 times for a child, according to Gaber.
On the drive home, Gaber said she decided to join a group of people that was volunteering with their dogs and kids. The only problem was she couldn't find one. So naturally, she started such a group all on her own.
"That day at the nursery was the innocence seed that was planted for what now is almost 14 years later an organization that reaches 13,500 kids," Gaber said.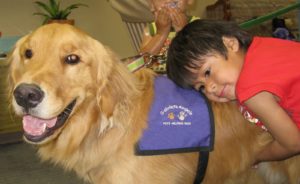 Gaber is now the CEO and founder of Gabriel's Angels, a nonprofit organization that "delivers healing pet therapy to at-risk children, nurturing their emotional development and enhancing the quality of their lives forever." Gaber calls it a business with a heart. Children participate in activities with the registered pet therapy dogs that teach them to be gentle and empathetic, such as brushing them and placing stickers on their ears and noses. Gaber said she never met a dog that couldn't crack a child in need.
"The dogs bring out the best in these kids, not the worst," she said.
Although she knew that her goal was to transform abused and at-risk children's behaviors by having them interact with animals, Gaber said she had to start the business completely from scratch. Being distanced from her community for 15 years proved difficult to build a network of resources to donate to her nonprofit organization.
"You have to earn that," Gaber said. "If you're not consistent about showing up and helping others, that's not going to work."
Fortunately, Gaber said she enjoys talking and socializing, and now can walk into a room and know almost everyone. The hardest part now, she said, has been managing the financial side of her business.
"I lean more toward the social part, but I am not going to run an organization and not understand how money flows through the organization," she said.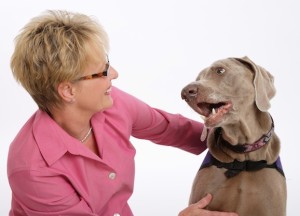 Today, she is confident in her ability to lead an organization and inspire others with her vision. She loves that she can be herself in and outside of her work, and most importantly, carry on Gabriel's legacy ever since that life-changing Christmas party.
"It's nothing I thought would ever happen," Gaber said.