When it comes to rock n' roll, you have no choice but to go all out. The Rock the Runway event at Las Sendas Golf Club on April 28 did just that. A day for the ladies, the event featured shopping, wine and fashion – what more could a woman want?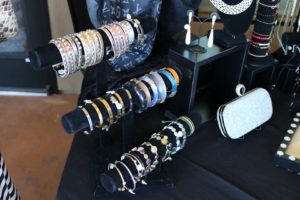 The Glam Candi table was packed, selling on-trend, affordable jewelry such as Chanel look-alike pearl necklaces and Cartier-esque bracelets and rings. Guests were also seen walking around with bags from In The Pink, which sold goodies such as bedazzled pepper spray, jeweled headbands and assorted bridal gifts.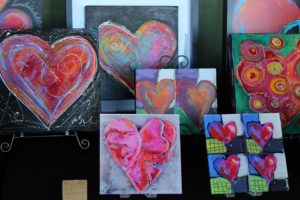 Artwork by JRHeArtWorks, which included mosaic and heart-shaped pieces, and JOJO BROS, which included abstract paintings of Audrey Hepburn and a rocker, was also featured during the shopping portion.
The author of Daily Affirmations for Love, Dr. Mamiko Odegard, was on site speaking with fans and personally signing copies of her book. The most high-end shopping experience was at the MaxMara tables, which showcased eye-candy such as designer bags, heels and luxurious coats.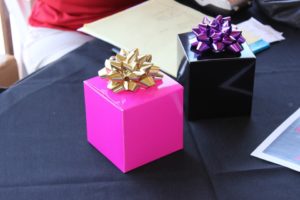 If that wasn't enough, "Dream Boxes" holding secret special prizes were sold for $100 each. The boxes sold out fast, and guests went home with prizes worth much more than they paid.
While guests shopped until they dropped, the runway models were inside getting glammed up by DeVita Natural Skincare cosmetics. Smokey eyes, braids and faux hawks galore, the makeup and hair exhibited the sporty and rocker chic theme of the fashion show.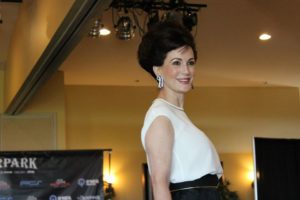 Guests took a break from shopping and snacked on wine, cheese and crackers inside the The Vistas Pavilion. Sheryl Cooper, looking elegant in a black maxi skirt and white top, reminded guests what they were there for – to benefit Alice Cooper's Solid Rock Foundation and The Rock Teen Center, which officers music, dance and vocational programs.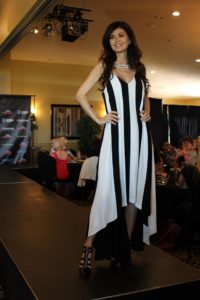 Finally, it was time for the fashion inspired by bright colors and look worthy of Andy Warhol. Local celebrities such as Kaley O'Kelley rocked the runway in tight knee-length yellow dresses, printed pants and blazers courtesy of MaxMara. Each model sparkled, adorned in jewelry by Molina. One lucky raffle winner even took home complimentary jewels! Musical guest Laura Walsh brought event back to its musical roots with a short country number.
After the show, guests were invited to shop and continue to enjoy their ladies' day out! For more pictures of the Rock the Runway event, check out our album on Facebook.