The end of summer and the beginning of back to school season is a time for family bonding and making memories. And there is no better way to do that than having family fun over good food. TopGolf is the perfect place to do both those things!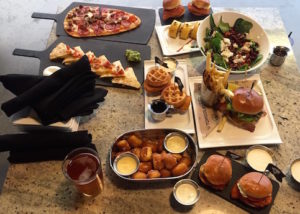 TopGolf takes a classic sport and puts an innovative twist on it; the goal is for players to hit golf balls driving range style onto targets that are dispersed in the distance. The virtual technology allows each individual's ball to be tracked so that the points can be recorded, the further away the target, the higher the point value. TopGolf provides all golfing materials and there is no experience necessary, it is almost more fun when you're just winging it for the first time!
Each party is given their own private "playing bay," which is an area behind where the golf balls are being hit that is furnished with either a plush seating area and a table or a high top and chairs. This allows other patrons to relax, eat, drink and enjoy when it is not their turn!
Speaking of eating, TopGolf has an extensive menu filled with new fangled concepts such as fried chicken & waffle sliders and 'mushi,' a southwest twist on a sushi roll. As well as classic favorites such as wings, flatbreads, sliders, quesadillas and salads.  You'll be pleased with whatever you choose to eat!In addition to the wide variety of food, TopGolf also has a full bar complete with local craft beers, a wine list and a selection of cocktails. Dessert is always a personal favorite of mine, but at TopGolf they make dessert interactive making it even better! I highly recommend the Cinnamon Injectable Donut Holes, served warm and ready to be injected (by syringe and by you) with either Bavarian Cream, raspberry jelly, or chocolate.. YUM!
When looking for a place to have dinner and an activity that is family oriented, look no further than TopGolf. Make a plan to have delicious food and spend quality time, whether it is with friends or family, during the day or at night. One of TopGolf's two valley locations, either in Gilbert or Scottsdale, is ready to service you!