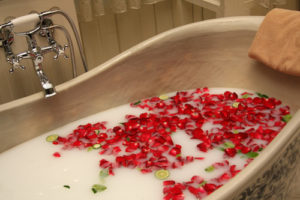 It's been told that Cleopatra, Queen of Egypt, took daily milk baths to keep her skin looking silky and youthful.
The story says she bathed in baths filled with donkey's milk, and she even put honey in the baths which added a glow to her skin.
It's also recorded that in the 1600s English nobles were known for soaking in milk baths, and the mistresses of the french king, Henry II, also bathed in milk baths.
Even my great aunt was known for taking daily milk baths, and her skin was said to be like porcelain.
But does this ancient method of bathing in milk really provide the skin of a goddess?
Apparently, it does.
Milk is filled with protein and healthy fats, and both help provide the skin with nutrients and added softness.
The lactic acid found in milk is a great exfoliant, and milk is also known to help with dry skin, as well as helping with cell turnover, according to Livestrong.
The lactic acid can also help prevent dark spots associated with aging skin.
Even those with sensitive skin, rosacea or eczema, taking a milk bath helps relive irritated skin and helps calm and soothe rashes and other irritations.
And luckily, we don't have to be a queen with a king's budget to bathe in a bath filled with milk.
Many products are pre-made to give the benefits of a milk bath. And if you find you want to try something more natural, making your own milk bath is easy and affordable.
4 cups whole milk
1 cup Honey, 1 cup oatmeal, 1 capful essential oils, and rose oil are all optional.
Fill the bath with warm water. If you choose to use honey in your milk bath make sure the bath water isn't too hot. The heat will melt the honey down and remove the useful properties, such as the antibacterial qualities found in honey.
Once the bath is filled, pour the 4 cups of whole milk into the bath and mix. Next, add your choice of other ingredients. Oatmeal is great for an exfoliant or to help calm down irritated skin, and essential oils like lavender are calming. Rose oil is also another ancient beauty secret that is said to help the skin glow.
Soak in the bath and rinse off with clean water once finished.
For pre-made products places like The Body Shop, and skincare lines like Laura Mercier all have milk and honey bath solutions.