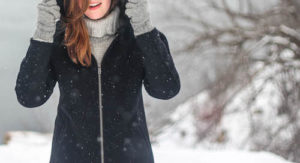 The cooler weather is creeping up, and that means it's about time to take out those winter coats and boots from hibernation.
And transitioning your closet to make room for your winter items shouldn't give you such a fright.
Here are some tips and tricks to get your closet ready for winter wear.
Hang summer items in the back of your closet, or store them altogether
This storage hack is for those who aren't blessed with a spacious walk-in closet. Although it may seem tedious, removing your summer items and folding them away in storage bins is a great way to transition your wardrobe over to winter.
Items like summer dresses and skirts can easily be removed, or if you have space then rotate the items to the back of your closet, allowing the winter items to be easily accessible.
Hang bulky jackets on the bottom racks 
Down jackets and winter coats can take up a lot of space, but these are also the items you'll eventually want easy access to. Consider hanging them on the lower rod of your closet. That way you can access them without having to forgo hanging space utilized by items like blouses, dresses or full length trench coats.
We often never use the bottom rack of out closets because it's an oddly hanging low rod, however, it tends to be the perfect solution to hold coats and jackets during the winter months.
Consider folding sweaters and placing them in your dresser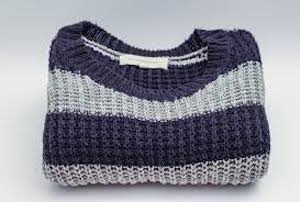 We tend to only use our winter clothing for a few months out of the entire year. Lucky for us, we get to hold onto items a little longer since they don't get that much wear.
Hanging bulky or heavy sweaters can cause them to stretch out and loose their shape. To avoid this, fold them and place in a dresser drawer, or fold them over a hanger if you prefer to have them stored in your closet.
This allows the sweaters to keep from stretching out, especially in the shoulders and neck.
Use foam pool noodles to keep your knee-high boots standing upright
Those fun colored pool noodles can now be used for more than floating in the pool. Measure the length of the boot and cut the foam to fit. Place the noodle into the boot and admire your beautiful boots on display.
Dedicate a drawer to winter accessories
That one drawer with all your swimsuits in it? Take em' out and place them in that storage bin with the rest of your summer items. You'll need this drawer to keep your gloves, knit socks and leggings in.
We often forget about the fun winter items we accumulate along the way because our season is so short. Instead, dedicate a drawer to all those fun socks you found, or pretty gloves you want to try out this year.
Display scarves on a hanger with shower curtain rings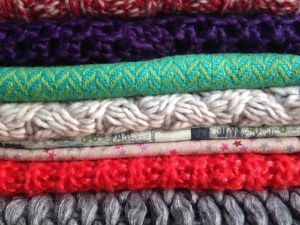 Buy a box of shower curtain rings and place them on the rod of a hanger. Thread your scarves through the rings and hang the hanger in your closet. This is a great and inexpensive way to store your scarves and have easy access to them.
I can't tell you how many times I had the perfect scarf for an outfit and forgot I even owned it because it was hidden away.
There you have it, ladies! I hope this winter edition of closet organization tips and tricks helps you gear up for those much awaited cooler days.