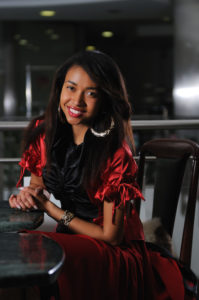 It's that time of year when we all start to stress about what we are going to wear to holiday parties, and this becomes even more stressful when you are going to the party if you are in a new relationship.
You risk going as a total babe that can prove to be a distraction, or going so plain you end up diverting from your authentic style.
My advice is to always dress more modest. Now before you sigh, because I think some of you just did, you can still look like a million bucks.
First, let me explain why I encourage you to be modest.
When you meet someone for the first time they size you up in as little as 7 seconds. Our brains do this automatically.
"Meeting people activates the same region of the brain responsible for assigning prices to objects. And after we've assigned a value to a person, we make the decision on how to orient ourselves to that person," Karla Starr said in her article for Psychology Today.
People are going to judge you based on your appearance. It may not be fair, but it's reality, and science backs this concept. They will also judge you on how you behave and communicate.
But for purposes of this article, we are going to focus on making sure you make a great first impression with your appearance at a holiday party.
Remember, you will not only be making a first impression yourself, but this will also become part of your partner's first impression on those people they may not have met yet, such as the boss's wife.
Dress codes will vary, so if possible, find out what the appropriate attire is. If you don't know, you might be able to do some research by looking online to see if the company posted any holiday party photos from the past events.
Here are 5 ways you can look like a million bucks without being a distraction.
As an alternative to the little black dress, consider a little red dress or a little green dress. Every woman has a little black dress. One way you can be sure to stand out is adding a twist to this concept by doing it with one of the colors of the season.

Adding a tuxedo blazer to any outfit will up your style game, even if you are in jeans.

It's time to shine, but you don't have to look like you wrapped yourself in tinsel. Grab your favorite piece of holiday jewelry, or wear a tunic or metallic-blend fabric. But remember, less is more.

A pantsuit is the perfect alternative to a dress. It's classy and chic.

Put on some leather (or leather alternative). It's sleek and brings in some shine. But be careful not to look trampy. Since capes are big this season, consider adding a leather cape versus a blazer or jacket.
It's the holidays so you can be a little more fashion-forward, but always keep class in mind.