The Fractured Prune doughnut shop's main goal is taking the ordinary and making it extraordinary. This is not your average doughnut shop and these are most definitely not your average doughnuts. All doughnuts are fried upon ordering to ensure a hot and fresh custom made product, and once the doughnut is fried to perfection, toppings are added.
The displayed menu, which varies by location, consists of 20+ store favorites that are considered to be The Fractured Prune's specialty items. As impossible as it may seem, you can make your own flavor filled masterpiece, if there isn't a flavor that hits the spot for you. It's simple to make; with a selection of 19 glazes and 13 different toppings, the create-your-own possibilities are endless.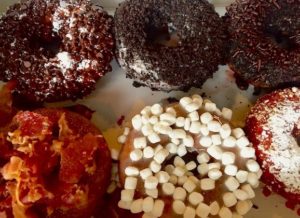 An unusual favorite of mine is the "Maple Bacon." It's a doughnut coated in maple glaze, topped with cinnamon sugar and crumbled cooked bacon; it's a mouthwatering treat that combines sweet and savory in a tiny package. But, if you're not feeling too adventurous, stick with a more classic combination. The Fractured Prune's bestseller nationwide is, "The OC Sand," a doughnut topped with honey glaze and cinnamon sugar. It's a simple pairing, but the bold flavors create a taste that you will not soon forget.
Whether you are looking to venture outside of your comfort zone or just looking for a flawlessly executed classic treat, The Fractured Prune is sure to please. Doughnuts are available for sale individually and by the half or whole dozen. Head on over to one of their many Arizona locations or head to their website to find a location near you!
The Fractured Prune serves up doughnuts that are the perfect start to your morning or after lunch dessert, whatever the time and whatever the flavor, there is a bundle of fried joy waiting for you! Enjoy!