Alice Cooper's Proof is in the Pudding Finals Find Two Opening Acts
Alice Cooper's Proof is in the Pudding finals were the evening of November 10th at the new venue, The Van Buren in Downtown Phoenix.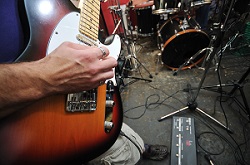 The event was in honor of Cooper's talent competition and sweepstakes, the Proof is in the Pudding. In the competition, Cooper gives young and up and coming artists the opportunity to prove themselves worthy enough to win a spot opening for the rock legend at his 16th annual charity event in December, Christmas Pudding.
The two grand prize winners were Amelia, for the soloist performer, and Mariachi Juvenil de mi Tierra. Both will open for Alice Cooper for the charity event on December 9, 2017.
Runner ups included JAM NOW, Conrad Varela, Innocent Elaine, and Sophie Dorsten.
Winners are eligible for multiple prizes, including the grand prize of opening for Alice Cooper and $1000. Other prizes include a chance to meet Pat Benatar, new guitars, and other cash prizes.
The finalists performed at the venue beginning at 6 p.m. and the event was free for all ages.
Cooper has been an outspoken figure in the Phoenix community for decades. He supports and runs multiple charities along with his wife, Sheryl Cooper, who herself is a force to be reckoned with.
The annual event Alice Cooper's Christmas Pudding featured big names like Johnny Depp in past years. This year the event brings Slash, Rob Halford, and many more. The proceeds from Christmas Pudding go directly to the Solid Rock Teen Center.
Tickets are available for purchase starting at $125 and ranging up to $750 for VIP tickets and tables, and the event will begin at 7 p.m. at the Celebrity Theater.
The Van Buren is a new sister venue to the popular downtown bars Crescent Ballroom and Valley Bar. The Van Buren is an event space and concert venue with a small bar. Unlike Crescent Ballroom and Valley Bar, it is only open for events and concerts and will not be open as a regular drop-in bar. The Van Buren opened in August 2017.