Something mothers can really appreciate on Mother's Day is time away from the usual house chores, cooking and cleaning.  However our families can make it happen, we long for a day where there are no dishes or clothes to wash, hand prints on the stainless steel appliances, toothpaste smudged on the counter tops and backpacks dropped in the walkways.  Dads are often charged with making something happen on Mother's Day especially when the children are young.  Cookies, flowers, candies and cards will be flying off the shelves this week in preparation for Mother's Day this coming Sunday, May 12th.  But, if you are anything like me, a day at the spa is nice and so are flowers but homemade gifts and sharing special times with the children are even more desirable. I'd like to spend quality time having fun with my kids and make a mess that is not in my kitchen or my house that I will later clean up.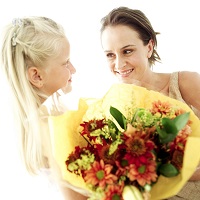 In light of our Mother's Day wish that messes will magically disappear that day, I thought I'd share a few events around Phoenix where kids can make homemade gifts or share time in the kitchen with no mess for mom to clean up.  Here is a list of some activities scheduled in Phoenix that kids can enjoy one on one with mom or the entire family.
Mother's Day may not be the only day you are looking for something to do with your children either, Although, it is an important one.  It is difficult when everyone has their own lives and such busy schedules to make one on one time together.  Another site worth visiting that has suggestions on all sorts of activities for kids, in Phoenix, or wherever you may be is Kid Pep.  Kid Pep lists a variety of activities for families with children and it's not just limited to the Phoenix area.  It's a resource you can refer to if you are traveling or perhaps we've captured a reader that is out of state.
From all of us at SmartFem.com, we wish you a beautiful, loving and relaxing Mother's Day 2013.
Locations throughout Phoenix Valley
AJ's through-out the valley will be holding their Little Chefs Club event on Saturday, May 12th.  Each AJ's will coordinate its own activity so you will need to check with your local store for times and the specific activity.  In the past, Little Chefs Club has decorated Mother's Day cookies and made tiered cookie cakes.  There have also been events where children made heart shaped pizzas and cute homemade cards.
Scottsdale Fashion Center and Kierland locations
Sur La Table in Scottsdale Fashion Square and Kierland offer cooking classes all month long.  On Sunday, May 12th, both stores will be holding a Mommy & Me Bake: Cupcakes class beginning at 11:00 am.  The cost is $35 per person and children ages 5 and up can attend the event.  This is well worth it as your little chef can frost to his heart's content and the mess stays behind.  Space is still available and you can register for the event on line at the Sur La Table website.
35 N Robson, Mesa
Children ages 6-12 are invited to make a unique recipe holder and a lovespoon for their mother. The class is scheduled for one hour and begins at 10:30 am on Sunday, May 12th. General admission to the museum is required and this special class is an additional $13.  Following the class, families can spend the remainder of the morning and afternoon in the museum.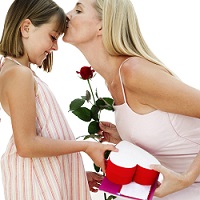 Locations throughout Phoenix valley
On Mother's Day, As You Wish Pottery is holding a special event where mothers and toddlers can paint together and create a ceramic plate.  Refreshments will be served in the shops and you can spend as much time as you like working on your masterpiece. The cost for the event is $25.  Remember the pieces do have to be fired so you will come back the following week to pick up your completed art work.
Locations throughout Phoenix valley
Every other Saturday, Lowe's holds a kids craft workshop.  You will need to check your local Lowe's store to confirm times as they may vary slightly throughout the valley.  Most workshops begin at 10:00 am.  This Saturday, May 11th, children work with a Lowe's specialist to create a lovely heart shaped box for their beloved mothers.