Whether you're looking to have breakfast, lunch, dinner or drinks the Phoenix Public Market Café has something for you! In the midst of downtown Phoenix, the Phoenix Public Market Café is all about handcrafting dishes, desserts and drinks with local, seasonal ingredients. Catering to many different dietary restrictions and preferences, the menu includes many vegan, vegetarian, dairy free and gluten free choices. Breakfast is served from 7a.m.-3p.m. and additionally  there are a wide variety of menu options available from 11a.m.-close, complete with appetizers, sandwiches and burgers, salads, soups and other small plates.
The Phoenix Public Market Café is approaching the celebration of its 4th birthday here in the valley and some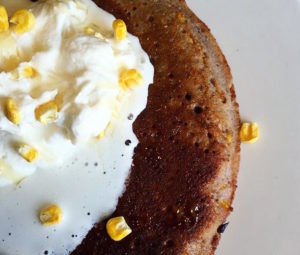 crowd pleasing specials are finding a permanent home on the menu along with a few sure-to-delight new additions. These include but are not limited to: new salads, a new signature dish featuring a marinated tri-tip, pork belly tacos, and a blue corn pancake topped with honey whip cream & corn. But what about dessert you may ask?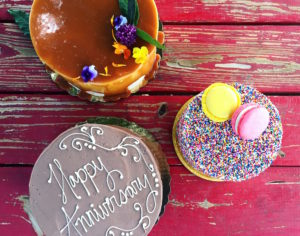 The café offers a wide variety of made-in-house pastries such as seasonal macaroons, loaves, cinnamon rolls, specialty cakes and a NEW to die for organic soft serve. Specialty cakes are available for purchase ranging anywhere from $32-$38 and are customizable per the customer's request. Organic soft serve is available in chocolate, vanilla and a swirled variation with a myriad of toppings for easy and delicious customization.
A chic eatery with not only a full menu, but a full coffee bar and a happy hour that would have anyone jumping for joy. The Phoenix Public Market Café has choices ranging from $5 cocktails and sangria created from seasonal ingredients t0 $7 pitchers of locally brewed beers daily from 3p.m.-close.
No matter if you're looking to dine-in, takeout, grab a cocktail, coffee or ice cream, the Phoenix Public Market Café is the place to visit. Chef Aaron Chamberlin is determined to convey his passion for food and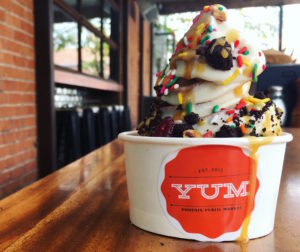 Phoenix by building communities through food! The welcoming urban environment is filled with communal tables, open seating and a wide bar perfect for conversation with your friends or getting to know your neighbors. The only word that seems fitting for the food and atmosphere is YUM!
Head on into the café and give something a try, breakfast, lunch or dinner, noon or night! Don't forget to share your photos of your delicious meals with us on Facebook and Twitter. And stay tuned for more from The Phoenix Public Market Café, Chef Aaron Chamberlin and SmartFem!