Scottsdale to Host Pinners Conference, Junk in the Trunk this Fall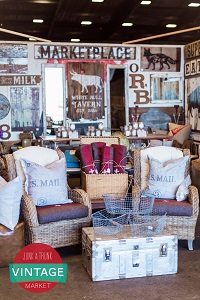 DIYers and Pinterest lovers rejoice! Scottsdale will be the location of two conferences where local and national craftsmen and women come together to sell their handmade and vintage products this fall.
There is an expo or conference for just about anything you can think of these days. Junk in the Trunk Vintage Market caters to the crowds who scroll through Etsy for hours on end, love finding treasures at second hand stores, and garage sale frequenters everywhere. The event was founded by two Arizona "junkers" as they call themselves. The two women began as new mothers who met at a church group and eventually created a beautiful friendship and business with their vintage market.
At the market attendees will be able to shop, eat at vendor stations, have a drink, and enjoy good times with their friends and families while "junking" around.
Junk in the Trunk Vintage Market will be coming to Westworld of Scottsdale September 15-17. Tickets are available on their  website for one day or all three days.
Pinners Conference revolves around the love of Pinterest and all thing do-it-yourself. Join attendees at Westworld in Scottsdale for shopping, eating, and classes for every pinner imaginable. With classes ranging from topics like home decor to cookie decorating, this event will leave you feeling skilled and perhaps some new found passions.
At this expo you should come for the classes and stay for the shopping. This place is like every class you have ever wanted to take at Joanne's or Michael's but never did. A lot of the vendors and teachers are local as well. You can support your community while learning how to properly do chalk calligraphy.
Pinners Conference and Expo will be October 6-7. Tickets are available on their website.