In the era of blockbuster smash hits and regurgitated horror films, where do moviegoers take refuge from the awful money grab that is modern cinema?
I like to think that we take solace in the independent film. Not to say one is necessarily better than the other, but anyone knows it's hard to compare Avengers: Age of Ultron (which opens today internationally) to something as genuine as Colleen Hartnett and Kyle Gerkin's Seven Hours in Heaven.
Seven Hours in Heaven is the latest indie film out of Arizona with a large amount of buzz. What happens when three couples head to a cabin for a weekend of drinking and fun, and decide to play a game they haven't in years? Things go down, to say the least. The trailer is suspenseful and it's easy to tell that there will be a lot of drama. John Crosthwaite, Aria Song, Honda King, Aaron Ginn-Forsberg, Mark Grossman, and Colleen Hartnett are the top billed cast for the film.
Hartnett and Gerkin co-produced this project and SmartFem had a chance to exclusively interview both of them, even before the film hits the big screens.
What I found interesting throughout out the interview is the amount of hard work each of them personally put into making this film happen. When both producers spoke about the film, they were invested deep within their heart. This film is their baby. Kyle Gerkins revealed that the actual filming process only took 8 days. That is simply unheard of in Hollywood, let alone for a low budget indie.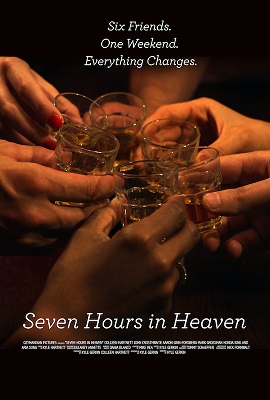 "We did a lot of preproduction with the actors and having them prepare and having everything set and ready to go," Hartnett pointed out.
Hartnett also mentioned the entire cast and crew lived on location in Mund's Park for that week. "It was really fun having the cast and crew in Mund's Park for the full 8 days," she said.
Gerkin explained that he wanted to avoid cutting corners at all costs. "It was meticulously planned.  I think we didn't [cut corners] and the reason was because of the amount of meticulous organization we did before shooting."
Many people do not realize that when shooting an independent film, money and time are always constraining factors. In order to combat those two things, Gerkin and Hartnett did as much preproduction as possible. After all, most of the movie magic doesn't even occur on set.
"Filming is most taxing process every minute," Gerkin said. "'Lights, camera, action' is definitely a part of it, but it's only about a third.  It's really about how much work goes into preproduction to post production. You don't really have time or you have a small budget. You can't just throw money at the problem."
"I sat down with every actor and we went over what the motivation was for every line. It was very much collaborative 'predirecting.' Normally I would have to do this on set, but instead of 2-3 takes, we'd nail it the first time out and only have small tweaks," Gerkin said.
Fun fact: Each actor, except Hartnett, auditioned for a different one than they were cast in!
Seven Hours will be Hartnett's debut as a co-producer,  however she also stars in the film. "I learned so much about the different roles. It takes an army. Every person's role is extremely important, right down to the production crew," she said.
Hartnett, who is partial to the Meisner acting approach also discussed her experience as an actress as well as producer.
"I've been studying Meisner for 10 years. It works for me because it's truth. It's the fastest and healthiest way to get into character," she said.
Hartnett and Gerkin had both studied Meisner acting in the past, but with such a diverse cast, there were bound to be other acting styles in the mix.
"It was a new challenge for me to work with other actors. It was fantastic though, working with new actors with new approaches. I definitely picked up some tips," Hartnett stated.
"I think the biggest challenge is learning how to get the most out of each actor. Some really want to be pushed, some need a more gentle touch, some need specific direction. You really do learn what works from different people. I was much better by the end of the shoot," Gerkin said.
Although these lovely actors and actresses have put their all into this movie, the process isn't over just yet. Seven Hours in Heaven is still searching for a distributor in order to get into theaters and lock in a solid release date. For now, they are enjoying their time on the festival circuit.
"It depends on which [film] festivals we're accepted into. We've applied to festivals all over the states. It also depends on the release. But, at the moment they will have to sit patiently and wait," Hartnett explained.
For audiences who are dying to see Seven Hours but missed the Phoenix Film Festival opening, Gerkin and Hartnett advise to keep updated with their website, Facebook, and Twitter account until they strike up a distribution deal.