Summer time means vacations, pool time, and soaking up vitamin D while sipping on a refreshing cocktail.
But you don't have to be sitting in the Bahamas to enjoy a tropical drink. Here are three new twists on summer cocktails to enjoy while lounging poolside this summer.
You'll need:
        4 oz Skyy Infused Dragon Fruit Vodka
        2 tsp honey
        4 oz fresh grapefruit juice
        2 oz fresh orange juice
        sugar for the rim of the glasses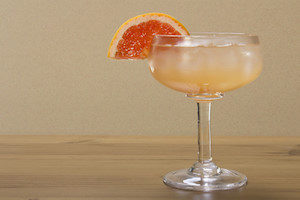 orange wedges for garnish
Put the vodka, honey, grapefruit and orange juice into a cocktail shaker. Add ice cubes and shake for 10 seconds. Using a slice of orange, wet the rim of the glass and dip in the sugar. The easiest way to sugar coat the rim is to put the sugar onto a plate. Once the rim is coated with sugar, pour the chilled cocktail into the glass and add the orange garnish if desired. Enjoy!
You'll need: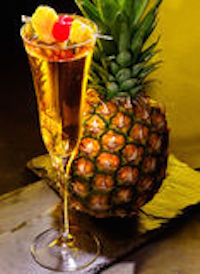 1/3 cup champagne
        1/4 cup pineapple juice
        1-2 tbsp lemon-lime soda
Make sure both the champagne and pineapple juice has chilled in the fridge for at least 30 minutes. In the champagne flute pour the champagne followed by the pineapple juice, topping off the drink with the lemon-lime soda. For an extra bit of pineapple garnish with a pineapple slice. This bubbly drink is a fun twist on a traditional mimosa!
You'll need:
      1/2 cup pure coconut water like ZICO coconut water
      1/2 cup cream of coconut
      1/2 cup tequila
      1/3 cup fresh lime juice
      3 tbsp fresh orange juice
      1-2 tbsp simple syrup
      lime wedges and margarita salt for garnish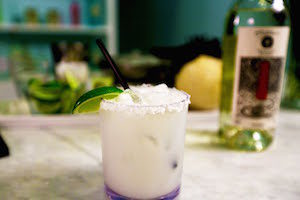 First, mix the coconut water and cream of coconut together until combined. Pour the mixture into ice cube trays and allow to freeze overnight. The ice cubes may not freeze 100 percent which is okay since they will be blended to create a slushy texture. Pour the tequila, lime juice, orange juice, and simple syrup into a blender followed by the coconut ice cubes and pulse until combined. Based on taste, add more syrup or ice cubes to sweeten or thicken the drink. Take a chilled glass and rub a lime wedge around the rim of the glass followed by coating the rim with margarita salt. Pour the margarita into the chilled glass and garnish with a lime wedge. Your guests will go crazy for this twist on a summer classic!