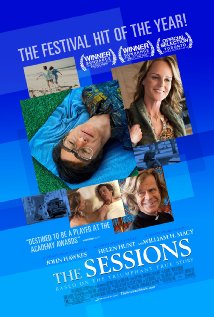 Writer/director Ben Lewin bring us The Sessions, a touching true story about Mark O'Brien who spent the majority of his life in an iron lung due to contracting Polio as a young boy. Despite his disability, Mark (John Hawkes) had a wonderful personality and outlook on life which shined through in his poetry.
While writing an article about sex and the disabled, Mark is faced with his own emotions, desires, and fears about sex. At 38 years old, Mark decides to lose his virginity with the help of his attendant Vera (Moon Bloodgood) and the blessing of his Priest, Father Brendan (William H. Macy). He is referred to Cheryl (Helen Hunt) a professional sex surrogate who assists him in working through the physical and mental blocks of sexual discovery, learning to love himself, and finding love.
For me this movie is about the beauty of being vulnerable and intimate with another person. It is a smart and funny, feel-good kind of movie. Although there was surprise in the theater (myself included) by Helen Hunt's full-frontal nudity, the movie was tastefully done. The Sessions has an all-star cast and fantastic screenplay. I would absolutely recommend this movie as one of this year's must see movies.