I am blessed. My apartment was not affected my Hurricane Sandy. I never lost power — though lights did flicker several time. Mostly I pigged out on Halloween candy, procrastinated on schoolwork and caught up on a lot of television shows.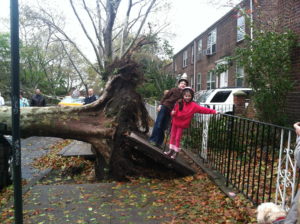 My roommate and I walked around our neighborhood the next day and couldn't believe how lucky we were. There were two large trees on the end of our block that took over the entire road, and two cars and an apartment with it. On the street over, there were three equally large trees that blocked the road and demolished several vehicles.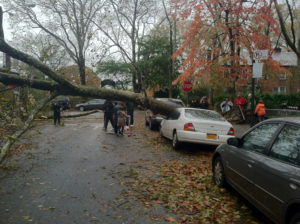 And that is the best-case scenario from Sandy. Some of my friends downtown, in Hoboken and Jersey City didn't have electricity and water for up to six days. That's nothing compared to those left in The Rockaway's who still don't have power and are fighting looters from their own homes. That's nothing compared to those in Staten Island who lost everything.
Sandy is what we call the five-letter b-word. Our public transportation is slowly coming back but it won't be restored to normal for Lord knows how long (and I have no idea how I'm getting to school downtown on Tuesday). This lack of transit has had a major impact on businesses: no one from Jersey can come in, and the commute is twice as long for those in Brooklyn. We all have to make sacrifices until more subways are drained of sewage and the ocean.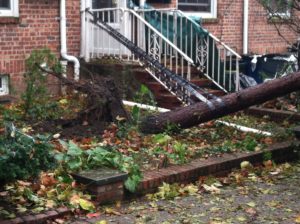 Sometimes NYC (and Jersey) has… not so much…. come together. Idiots — yes, that word is accurate here — have been starting fights on multiple occasions in these two hours or more lines for gas. People are looting homes and grocery stores in The Rockaways.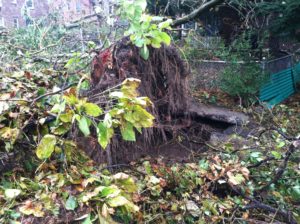 But despite those small instances, NYC has united once again: people are gathering food and blankets and coats for those who don't have power or for those whose homes were destroyed. And Sandy wiped out fall — we have officially reached winter and these people don't have heaters, let alone a roof over their heads.
The East Coast still needs your help. We are a strong community but without your support, life here isn't going to go back to normal as quickly as it should. Some New Yorkers lost everything. Visit www.redcross.org to see what you can do to help.
Photos by Pamela Eberhardt in Sunnyside, Queens