Every wine has a story. It's about the grapes, the soil, the weather and the winemaker that shaped and molded this particular bottle of wine. Lou Zant knows this, and that's why he created a totally unique wine club.
Wine Ambassador Club offers a total sensory experience — not only a bottle of wine, but a video glimpse into the people, the land, the history, and the passion that created this unique wine drinking experience.
Through the Wine Ambassador Club, partners Ron Feniolo, Napa Valley winemaker, and Lou Zant, wine aficionado and marketing expert, are making available a selection of small-production, hard-to-find wines. They are telling each wine's story through beautifully executed video "tasting notes" that educate and entertain.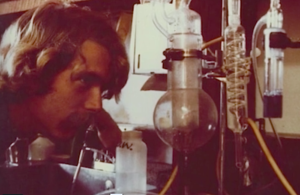 We browsed the Wine Ambassador website and found one of the fascinating stories that will be shared with Club members. Long-time Napa Valley winemaker Ron Fenolio tells the tale of three young guys experimenting with making their own wines in the basement in the early 1970's (I loved their mustaches and sideburns in the vintage photos). Ron and friends went on to found
Veedercrest Winery on prestigious Mount Veeder, and win recognition for their wines at the famous Judgement of Paris in 1976. From 70's sideburns to modern-day maturity, Fenolio is still making award-winning wine, and two of his Napa Valley bottlings are featured in Ambassador Wine Club's first month's offerings.
We set out to discover the Club by taking advantage of a limited-time opportunity to join the Founders Club. The introductory package seemed too good to pass up:
A bottle of Yvonne Napa Valley Reserve Cabernet Sauvignon 2012 (valued at $120), which has been chosen as the sole red wine to be served at the 2016 Academy Awards Dinner
A pair of very elegant crystal wine glasses from Stolzle, Europe's leading designer of lead-free crystal stemware ($30 value)
Lifetime discounts on shipping and events
First dibs on allocated wines and special offers, and all this is just $59 a year.
The Club also offers other awesome features, such as access to exclusive events and trips. We can't wait to take advantage of these!
Check out the website to browse the videos, sign up for the Founders Club, and learn about the first month's Wine Club offerings. You may just find your own passion.