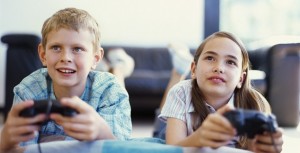 When it comes to kids and video games, most parents cringe at the thought of what their children are playing and whom they're playing with online.  How does a parent know if the game their child is playing is age appropriate, or a violent, explicit, video game that would make Quentin Tarantino blush?
The video game industry, to its credit, has voluntarily adopted a useful and informative rating system that should be followed when making a decision to allow your child to play.  Known as the Entertainment Software Rating Board (ESRB), it can be broken down as follows:
EC (Early Childhood) – Suitable for ages 3 and older.  Games with this rating are marketed for toddlers who may not grasp most other video games.
E (Everyone) – Suitable for ages 6 and older.  There is an E10+ rating for games designed for ages 10 and older.   Basically nothing to worry about.
T (Teen) – Think PG movies.  Games will have mild or non explicit violence and language, only mildly suggestive content, and contain strategies or plots that are understandable and appreciated by teenagers.
M (Mature) -These games contain mature content such as language, graphic violence, and possibly sexual content that is inappropriate for children.  Think R rated movies.  Such games should be discouraged for children and never be played without direct adult supervision.
There are some who blame the video game industry for the production and marketing of violent video games to children.  There may be some truth to these allegations but the industry has made the ratings as clear as they can be and expect parents to do the job of raising their own children.  There are plenty of adults who enjoy playing video games.

There are some really well designed games out there that are not only appropriate for children but can offer enjoyment for all ages.  Most games are best played with friends either sitting side by side on the living room sofa or networked across the house or the Internet.  One of my favorites games for playing with my own children is Portal 2 from Valve (rated E10+), available on the Xbox360, PS3, and PC/Mac.  Portal 2 is a single or multiplayer science fiction puzzle game with a dazzling array of special effects and imagery along with superb voice acting and intense interactive puzzles that require both imagination and teamwork to solve.    My other favorite is Minecraft by Mojang  (not rated), a superb multiplayer building, survival, and exploration game available on PC/Mac, iOS, and Android that is enjoyed worldwide by people of all ages.  Minecraft is a recently released online game that uses simpler block style graphics allowing it to run on older, less powerful computers or tablets.  It offers a vast interactive virtual world where your children build or explore cities, castles, tunnels, or just about anything they can imagine while fending off an assortment of not so scary monsters.  It's inexpensive and simple enough to play for the inexperienced parent.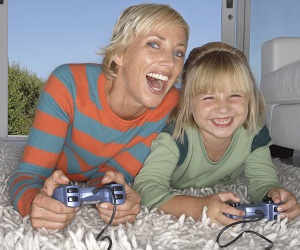 Always be aware of who may be playing with your children online.  Game publishers have no way of predicting or regulating what other players might do or say.  Getting involved and joining your kids once in a while is essential to being aware of the virtual world they play in.  I'm betting if you haven't tried playing video games with your kids, you're in for a surprisingly fun treat.
Talk to your children about why they can't play Battlefield, Call of Duty, Grand Theft Auto, and other excessively violent and explicit video games.  Instead try to steer them toward something more constructive and creative that you can enjoy with them.  Talk to their friends' parents and avoid the old – "but my friend plays it" – trap that causes many parents to give in.  You don't need to be a gaming junkie to stay on top of your children and protect them from violent video games.