Ever since I gave birth to my daughter I struggled to find the proper products to use on her sensitive skin and body. Looking through isles at drug stores never seemed to show me any new products that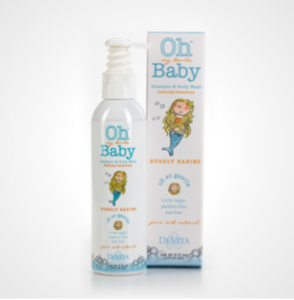 would truly protect my daughter's skin. I knew that the common baby product lines were not ideal for my baby because she would always break out in rashes. Their strong scent and long list of unknown ingredients made me look for something different.
Luckily, I came across one of the best baby skincare products I have ever tried. Oh My Devita Baby is a vegan skincare line made for that very special person in your life. It offers something that other baby products have never offered before.
One of my favorite products is the Bubbly Babies Body Wash and Shampoo with Calming Calendula. I like to give my daughter a bath every night before she goes to bed, and this baby wash is the perfect way to calm her and get her ready to go to sleep. This product has a very good scent without being overwhelming.
After her bath I like to massage my daughter with Flutterby Baby Brulee Lotion. This helps to relax your child after their shower. My daughter has not shown evidence of a rash since I started using these products. I can honestly say that now that I have tried this line of baby products, I am HOOKED. I have been recommending them to any mommy I know.
I must add that these products are not just for babies, but for children of all ages as well. To all the mommies looking for a great new product to try on your child, Oh My Devita Baby has my Mommy stamp of approval.