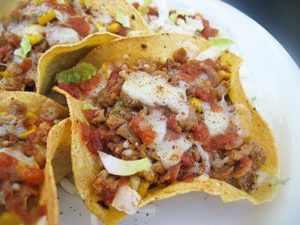 Have you heard about the taco cleanse? Yes, you read that right! A way to cleanse your body by eating yummy tacos! Forget about the flavored water, herbalife shakes and mixed juices…tacos are the new healthy. Taco Emojis for everyone! 
I have tried my fair share of cleanses and have only found myself to be irritable and STARVING throughout all of them. The taco cleanse is a way to diet by not feeling like all you had for breakfast, lunch, and dinner was air! A group of vegan scientists in Austin, Texas have created this new easy to stick to vegan cleanse. It's actually so popular that they wrote a book explaining more in depth just what this "Taco Cleanse" is all about. We know it's plant based and allows your body to eat foods like; refried beans, tortillas, and guacamole. Who doesn't love guacamole?
Here's how it works! You start your day off with a breakfast taco. The breakfast taco is the most important taco and within hours you will feel brighter. The breakfast taco will "erase the ill effects of the previous night's toxic indulgence!" Your next taco, the midday taco, is said to help you gain "positive physical effects." Feel free and welcome that extra boost of energy!"  Your final taco, which if spicy, will "stimulate the nocturnal imagination." The 30 day taco cleanse is said to improve your overall well-being. You are even allowed to throw tequila and margaritas into the mix during this cleanse. What other diet lets you do that?
I know what you're thinking…this is too good to be true. I am curious as well, but I can't escape all of the people who are talking about this cleanse. I'm going to have to try it! If you are succumbing to the peer pressure too than check out this list of taco cleanse recipes. Let me know what you think!