SmartFem Review: Lite Life Med Spa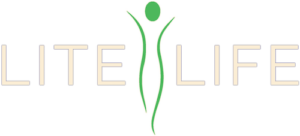 We all love a little pampering, and Lite Life in Scottsdale is ready to make you feel and look your ultimate best, in a band new and inventive way.
Services were provided in exchange for this review
Located in The Shops at Gainey Village, Lite Life provides customers with a natural approach to obtaining their best overall health.
With two doctors always on site, Lite Life walks clients through a comprehensive program that fits their daily lifestyle and needs, all at a fraction of the cost compared to other med spas in the Valley.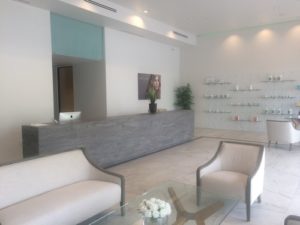 When first entering the facility, the lush lobby greats guests with a cool and serene environment complimented by a chic and modern design.
The staff is amazing and assists you every step of the way during your visit with them.
Services range from Cryotherapy and body sculpting, to IPL photofacials and laser hair removal.
Each guest, no matter what service they are in for, receives a comprehensive writeup from the InBody 570 Composition Analyser.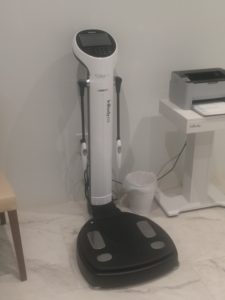 This state-of-the-art system mimics that of a scale, but when standing on it more is registered than just your weight. BMI, muscle mass, water retention and weight are just some of the things the scale reads.
It also helps the doctor identify if your personal goals are best for your body, and prescribe a treatment plan based on the results measured.
The machine allows patients to document their progress and see their results in real time.
What I really loved about this scale was how detailed the chart was. Once it calculated your results, a sheet is printed documenting your measurements.
It was really interesting to get an exact report of where my body is at so I can better determine what my goals are.
After getting my chart, I decided to try the exclusive Cryo Arctic Whole Body Cryotherapy Chamber.
Lite Life is the only med spa in the Valley with this Cryotherapy chamber, and is a favorite among the athletes of the Arizona Cardinals who come in to use the chamber for relief from their injuries.
The chamber gets down to a chilling 272 degrees, and clients stand no more than 3 minutes in the chamber, a time they work up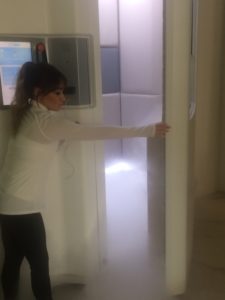 to.
Because I had never been in a Cryo chamber before, I was a beginner and went in for 1 minute, and let me tell you it was plenty for me.
Yes, it does feel that cold in there, but the shivering your body naturally creates to attempt to warm you up breaks down between 500 to 800 calories in just one session.
You can go in clothed, which I liked, or in a bathing suit. Either way the results are the same.
The idea behind the science of Cryotherapy is the extreme cold penetrates the muscles and freezes the cells, helping to regenerate new ones quickly.
With continued use, people experience relief of muscle pain and soreness. You can also see improvement in skin conditions, arthritis, and help with fine lines, wrinkles, and sun damage.
After exiting the chamber I noticed an immediate improvement in my lower back. I tend to always have a tight lower back and suffer from sciatica.
The tight feeling I normally have was greatly reduced, and I wasn't bothered by my back for the rest of the day.
Overall, the Cryotherapy chamber was an interesting service to try, and I'm glad I did.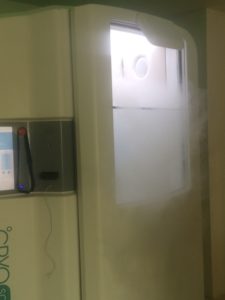 Like any service, multiple sessions are needed for the best results achievable, but when the sessions only last a maximum of 3 minutes, and you can go in clothed, it's the perfect therapy to schedule during your lunch break.
Overall, we give Lite Life two thumbs up!
Want to try Lite Life and their exclusive Cryo Artic Chamber? Mention you read their review on SmartFem and receive 1 free cryotherapy session plus 20 percent of another service of your choice.
Limited time offer.