You two had a routine going—like clockwork. Movie Monday, Wednesday date nights, Sunday brunches…  But now that you're done, what are you supposed to do?
Put your broken heart back together in the gym!
Don't sit at home ordering in pizza and eating your way through every flavor of Ben and Jerry's—for more than a few days at least.
Your blood-chocolate level can only get so high! Processing your emotions about what happened is healthy. But drinking or eating way your feelings or sulking for too long can send you deep into a spiral of depression and have you not feeling like your best self.
It's so important during this time to do what makes you feel good and get back to taking care of yourself! It's time to turn things around with an exercise breakover!
You might be surprised at the ways exercise has a way of replacing things your past relationship used to provide. Consider these! Exercise makes you:
Feel hot!
Yes, exercise physically raises your temperature, but it also turns you into a total hottie! And that gets you attention from new guys! You may not be ready to date them just yet, but it sure feels good to get the confidence boost—and some new clothes in your new smaller size!
Plan dates!
Okay, so no one's making reservations for your romantic date night right now, but you can actually plan really fun adventures… Workouts! ClassPass.com has really fun specialized activities to get you excited and inspired. Imagine yourself paddle boarding in the ocean, boxing with professional boxers, taking Private Pilates Reformer sessions, performing aerial acrobatics with silks, and even bouncing along happily like a child in trampoline classes. What better way to experience something you'd enjoy than to pick it out for yourself! It becomes totally addictive!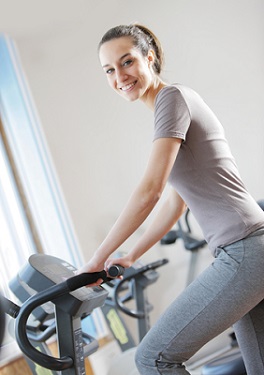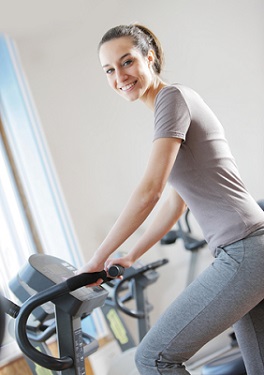 Flirt!
Group exercise classes have come a long way since the Jane Fonda leotard days! Now, there are classes where you can find really hot straight men! Kettle Bell class, Krav Maga self-defense class, boxing class, kickball or flag football teams equals fresh and athletic men!
Enjoy the Endorphins
Working out is a great way to boost the chemicals in your brain that make you feel good! Okay, so they might not be the same as those from sex, but you just might feel like you can conquer the world (at least until the endorphins wear off.) And they don't make you crash hard like sugar can. Plus, you'll be sweating so hard your tears will be unrecognizable! It's a great way to release emotions and channel the post breakup energy in a positive way.
Go Dancing
Salsa lessons anyone? Your ex probably wasn't a great or willing dancer without drinks anyway! Now you can bust a move with the guys that really know their stuff and enjoy it! Plus, they'll be so happy to be dancing with your lovely self! Not up for the clubs? CIZE is a great dance workout with professional choreography you can do at home if you want to dance like no one's watching and wish everyone was!
Get Massages
He was an amateur anyway. And probably was half watching football while he attempted to massage your neck half-heartedly with one withering hand.  It's time to go to the Pros – who aren't doing it just to sleep with you. Plus, with all this exercising, you're gonna need a little kneading. Find a Thai place nearby with a great deal, find your favorite masseuse there, a ask for him/her each time in advance, and let your troubles and tension melt away.
Get Presents!
Gifts can actually be better when you get them for yourself—because who knows better about what you want than you! No throwing subtle hints, begging, having to pretend you like something you'll never use, or returning the wrong size. It's time to treat yourself. It doesn't have to be expensive, or even cost anything. A "me-gift" can even just be a night in to read or something as simple as a night in to put on a facemask and watch a movie in comfy clothes.
You can even still fight!
Love a good fight but don't have anyone to take the stress out on? Get your pent up anger and aggression out on a punching bag. Luckily, you always win. Feel like throwing things? Go to an arcade! You even win prizes for letting it all out there!
Want more breakup tips and secrets to becoming your best self and the woman men worship from yours truly?  Visit BeAManMagnet.com!