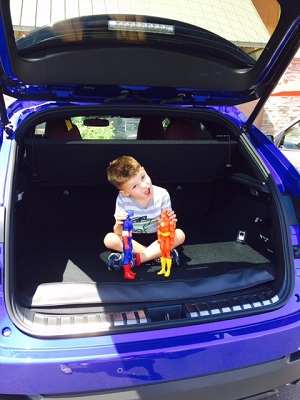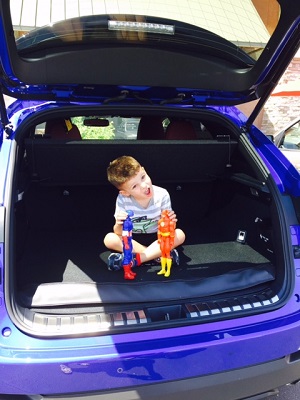 Have you noticed lately that we seem to be inundated with Superheroes? They seem to come from every angle including comics, movies and television. Have you ever been to Comic-Con? They generate millions of dollars for movie producers, toy makers and event planners.  More importantly, they give each generation of youngsters and the adult "kid" a hero they can fantasize about. I'm a Captain America fan. Captain America originated in 1941 with Marvel comics but it seems that every several years our superheroes are "re-invented" with up-to-date powers, and updated arch villains.
I look to the Lexus brand as the same rebirth; getting its start in 1989 with two stylish sedans and with every year thereafter, they grew in size and style.  Tantalizing one generation after the other. The Avengers have numerous superheroes and Lexus now offers 19 different models. As Captain America is a stand out for me, so is the 2015 Lexus NX 200t and by adding the F sport the NX truly goes in to superhero, superpower mode.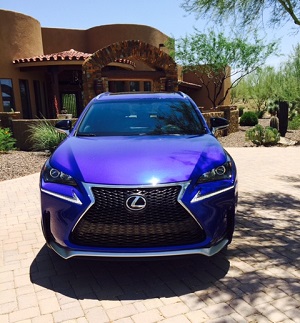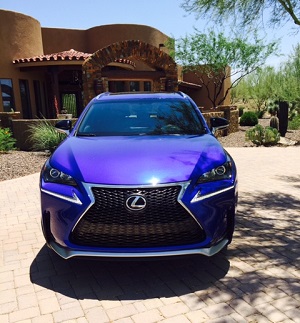 I first test drove the NX in Seattle a year ago, when it wasn't even available at Lexus dealerships. I knew after testing those models around the busy streets of Seattle, that they had a hit on their hands. The 2015 Lexus 200t starts under about thirty five thousand while the NX F Sport that I test drove runs about forty three thousand. The pricing is comparable to other models in their class such as the 2015 Audi Q3.
From the first time Lexus introduced the spindle grille I was a fan. You have to admit the aggressive bold look takes the Lexus models to another level of sporty and sexy.  All superheroes wear very form fitting attire so you can see every move they make (not to mention their muscles). And like those spandex uniforms our heroes wear, the maneuverability of the Lexus NX was tight and precise.  I felt in control while driving the NX with every turn I took, every traffic light I stopped at and every parking space I encountered.  I was one with the steering wheel, brakes and technology, like a sort of Wonder Woman!
Of course, Captain America has always been wrapped in the American flag, yet he is best symbolized by the shield he carries. Creators Joe Simon and Jack Kirby originally designed it to be triangular, but soon after made it round. It represents both defense and a target, and when thrown like a discus functions as a surprisingly effective offensive weapon. A safeguard that draws fire and then fights back, the shield is the perfect emblem for Captain America.

The Lexus "shield" or logo was developed by an image consulting firm that presented a list of 219 names to Toyota from which Vectre, Verone, Chaparel, Calibre and Alexis were top candidates. While Alexis quickly became the front runner and later morphed to Lexus, the name has been attributed to the combination of the words "luxury" and "elegance." According to Toyota however, the name had no meaning and was just meant to be memorable.

Not so sure on that:  Lexus is a girl's name meaning "Defender of Mankind."  With that meaning I see a new Marvel comic in the making.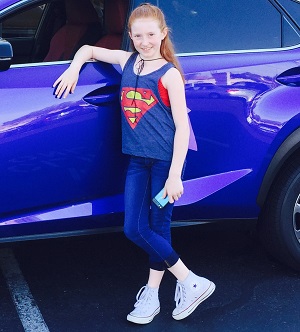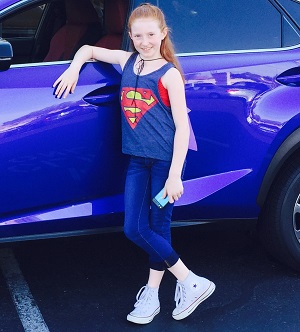 I also tested the super powers of the NX on the highway, the streets of downtown Phoenix and the underground parking garage of a Chandler law office. I used it for picking up kids from camp and dinner for two at the trendy Joyride restaurant where the valets were fighting over who got to park the NX F Sport. I was excited to have the Lexus for my grandson's superhero birthday party, not just for the bright blue color to match Captain America's uniform, but I was able to get Captain America to sit inside for a quick look around anxiously awaiting his reaction.
My impression of the interior of the 200t was "super," much like the exterior.  The race car look continues with its cockpit like seating. Many crossovers sit high and straight while the NX seats surround the driver in a lower position, like a hug from Captain America when you need it the most. The instrument panel was a cluster of modern technology and safety features that is easy to understand even without super powers.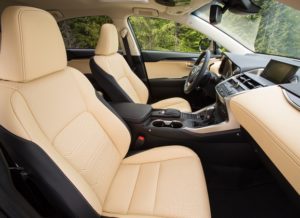 The technology includes Lexus' Premium Audio system and its eight channel amplifier. Bluetooth is seamless and the Qi wireless charging tray was so futuristic even Captain America was awed. There is an integration of remote touch interface in the center console which is a first for the Lexus system replacing the old joystick type instrument, which had its haters. It took me a little bit to get the hang of it but so did learning to use a stick shift.  I did "punch" in Barro's Pizza to the navigation system to get easy directions. I arrived with my decorations, my grandson and my attitude in my Wonder Woman T-Shirt an hour before the fifty or so other parents, kids and friends arrived.
2015 Lexus NX 200t Starting at $34.480

22 MPG City 28 MPG Highway
0 Liter Turbo 16-valve
235 HP, 258-lb-ft Torque
6-speed Automatic Transmission
8- Airbags – Driver, Front, Knee and Side – Passenger : Cushion and Side
Anti-Lock Braking system
Vehicle Theft-Deterrent System
Lexus Enform Safety Connect
Notification, Stolen Vehicle Location
Emergency Assist Button
Backup Camera
8-speaker Lexus Display Audio System , HD Radio with iTunes
Auto Dual Zone Climate Control
10-way Driver Seat – 8-way Passenger Seat4.2 Full Color Multi-information Display

The NX F Sport – My Test Vehicle $43,398

Sport Tunes suspension
Metallic Sport Trim
F-Sport Steering Wheel with paddle shifters
18-inch Sport Wheels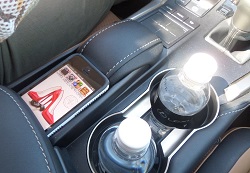 As I noted earlier, I let Captain America (wink) sit inside the vehicle. He was fascinated with the mirror that appears when you flip over one of the space savers as he adjusted his mask. There are cup holders that secure a water bottle so well you can unscrew the top with one hand which is useful for Captain America because his shield is in the other hand at all times. His only complaint was he felt Lexus was missing a compartment for his shield when he wasn't working. I thought he was always working to save people from evil and work for the good of mankind but I told him, however, that I would bring it up at the next Lexus meeting and get back to him.
Whether you are a superhero or a super parent (or teacher, nurse, engineer or friend), you really should test drive the new Lexus NX 200t and F Sport. You just may turn in your old shield for new one.