Thinking of Decluttering Your Home? Do this First
Unless you've been living under a rock, you've probably heard about the hit show, Tidying up with Marie Kondo. With the explosive success of the new Netflix show came a great interest in organizing, decluttering, and building a happy and loving home.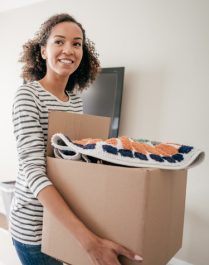 Personally, I've been a fan of the KonMari method for years. I learned about the Japanese organizing technique at an organizing event years ago and have been using it to clean out my home. I also use the systems when cleaning out my client's closets every now and then.
While I love the newfound popularity of organizing, I've realized that people are leaving out a very important step that can be critical to the success of the undertaking.
Like with many other projects, having an end vision is crucial to staying on track and remaining true to your goals.
For me, creating a simplified home has been a mission since becoming a homeowner. With that vision in mind, I'm constantly reminding myself to only keep things that serve a purpose. This vision also helps me when I'm shopping for everything from home décor to furniture, and even dishes.
Ultimately, each purchase must meet my requirement of serving a purpose and keeping a simple home.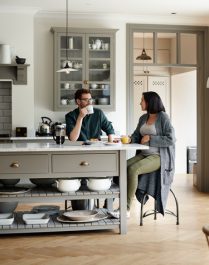 If you're thinking about improving your life by de-cluttering your home, put down those donation bags and take a step back. If you live alone, this step should be simple. Just ask yourself what the vision (aka end goal) of this process would be. Are you trying to work towards a minimalist lifestyle or simply trying to organize to make room for a big life event?
If your household includes more than you, schedule a time to talk to those sharing the space to reach some sort of agreement. Areas of the house like the kitchen can be tricky with multiple roommates because your vision to declutter can be different from your partner's to keep everything that holds memories.
Once you have a strong vision or end goal in mind, you've set a sturdy foundation for the decluttering process. Remember to check in with that vision every time you feel stuck or unsure of how to proceed.
Happy organizing!