California: Only Rescue Animals To Be Sold In Pet Stores Statewide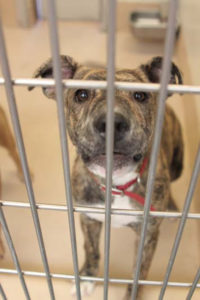 California is now the first state to pass a bill only allowing pet stores to sell rescue animals, according to the Los Angeles Times. 
The legislation, signed by Gov. Jerry Brown on Oct. 13, passed with a majority vote and will require pet stores to transition into selling rescue dogs, cats, and rabbits from shelters and rescue organizations.
Any pet store found to be selling non-rescue animals can be fined up to $500 per animal not obtained from a rescue center.
Assemblyman Patrick O'Donnell (D-Long Beach) proposed Assembly Bill No. 485 hoping it will help combat the overflowing L.A. shelters, while also taking away business from puppy mills.
Puppy mills have long been known to sell to pet stores and big retailers across the country. By limiting pet stores to only sell animals rescued by non-profit organizations, it severs the business ties pet stores have with puppy mills, helping to eventually put mills out of business.
For many animal lovers the passing of AB 485 is a huge success in not only the fight against puppy mills, but in the placement of rescue animals into loving and forever homes.
Californians seem to be happy with the news. Many took to Twitter to share their excitement regarding the passing of the bill, and their support to help end puppy mills and unethical breeding.
No animal should be born in a #PuppyMill. They deserve our respect. Thank you @SCIL2015 @HumaneSociety @ASPCA for #AB485. #AdoptDontShop

— Senator Ed Hernandez (@SenatorDrEd22) October 16, 2017
Kudos to California first State to make it illegal for pet stores to use puppy mills and must sell only rescues. #nomorepuppymills #AB485

— Ed Berliner (@BerlinerSpeaks) October 18, 2017
Some animal enthusiasts are not thrilled with the new legislation. Members of the American Kennel Club are voicing their opposition of the bill claiming it limits people from choosing an animal out of a variety of pets bred from reputable breeders.
The new legislation only states pet stores cannot sell animals from any other source than a rescue organization, and does not prohibit state-licensed breeders from selling directly to a consumer.
In relation to AB485 passed in California, we must understand what the law is saying. The law does not ban buying/selling purebreds #ANS211

— Madison Golden (@Manig0) October 17, 2017
The bill also requires retailers to maintain sufficient records of every pet housed within the store, including what organization the animal originally came from and current medical and immunization records.
AB 485 will go into effect on Jan. 1, 2019.