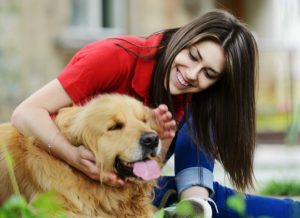 It's starting to get warmer outside, and although the temperature has felt pretty nice the last few weeks, it's also time to start remembering key indicators that your pet is getting too hot.
Here are some things to remember.
The weather may feel nice, but how hot is the pavement?
Taking daily walks is enjoyable right now. It's not yet 100 degrees outside and the cool 70-something weather has been warm welcomed.
But before you and Fido hit the ground running, make sure you check the pavement, especially if you're taking your walk during the hottest time of the day.
The black pavement can easily be 20 degrees hotter than what we are feeling outside. So do the good ol' hand test just to be safe. If you place the palm of your hand on the pavement and you are not able to leave it there for 10 or more seconds, then it's too hot for Fido's feet.
Bring extra water
Now's the time when hikers flock to local hot spots to get in their daily hike before the weather starts to get too hot. And with the nice weather means more furry friends are joining their owners for a nice hike.
But warmer weather still means you and Fido will be loosing water, and to be safe make sure you bring extra water with you for both you and your furry friend.
Too often do we hear about hikers on the news who ended up getting dehydrated because they ran out of water. It may not be scorching out, but it's still warmer and that means it's time to get back into the habit of having more water in your backpack than you needed a few months ago.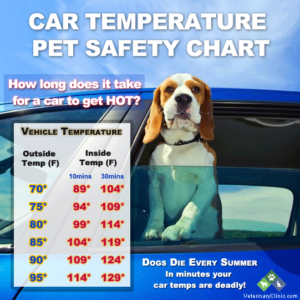 Cool temps outside don't mean cool temps in the car
This is a big one! It may feel like a nice 70 degrees outside, but that doesn't mean it's okay to leave Fido in the car for too long in the sun.
The inside of a car gets hot fast, and incase you need a reminder, here is a chart to help you gage the temperature outside versus the temperature inside of a parked car.
If you have to run inside somewhere and leave Fido in the car, make sure you park under shade, leave windows rolled down and not just a window cracked, and make the trip as speedy as you can.