New Trend Is Bringing Out The Scary Side Of Online Dating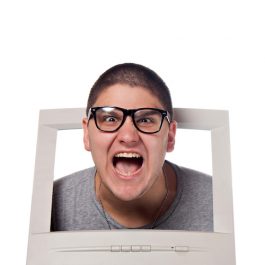 There is so much media buzz currently circulating around sexual harassment and assault. What is perhaps even more unnerving is the fact that sexual harassment and assault is now taking on new forms, and it's closer to your face than you think.
With so many online dating sites and apps, it's almost too easy for people to hide behind the safety of their computer screen and write crude messages to people online.
And now there is a scary and horrible new trend of people stalking Tinder users through their Instagram called "Tindstagramming," according to InStyle.
Apparently, as of 2015 Tinder allows users to link their Tinder account to their Instagram. The goal of allowing the two accounts to be linked was to open up more communication between users while giving them a little bit more information on the person they are talking to, according to Mashable.
By linking the two accounts, not only does it allow users to connect with more people, it also gives users more information about the person they are talking to in order to get to know them better.
Although the idea seems innocent enough, people are now using the feature to intrude on the Instagram of those they didn't match with on Tinder, or stalking people they haven't seen on Tinder at all.
When someone agrees to link their Tinder profile to their Instagram, they agree to have a public Instagram which means anyone can see the profile and directly send a private message to the person the profile belongs to.
As a result, users are complaining they are receiving creepy messages being sent to their Instagram inbox from people on Tinder they have never matched with or refused to match with.
I got another Tindstagram today @special_boots pic.twitter.com/ZzUrBpNmSC

— local crop top cat (@niceesque) October 7, 2017
With the "Me Too" movement in full force, many people are standing up and speaking out about how common sexual harassment and assault is in today's society.
But what many people never considered is how sexual harassment and assault can also occur online, and is a problem people are dealing with.
Some of the people who have been victims of "Tinstagramming" have shared their stories on social media. Some have even shared screen shots of the messages they received on Instagram.
I didn't realise it was a named thing when I got the messages but #Tindstagramming is real. If it's a no on Tinder, it's a no on Insta🙅🏻 pic.twitter.com/kWWE3BvNXn

— Aynsley (@aynsleygalway) October 4, 2017
It's unclear if Tinder or Instagram are searching for ways to stop this online behavior from continuing to happen, but one thing is for certain, the easiest way to prevent "Tindstagramming" is to never link your accounts and to keep Instagram accounts set to private.
Also, share little personal information on Tinder and always report inappropriate behavior.