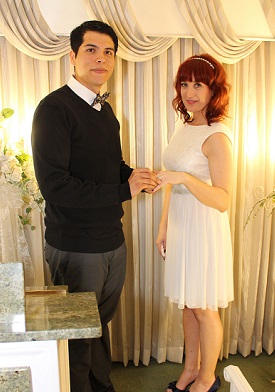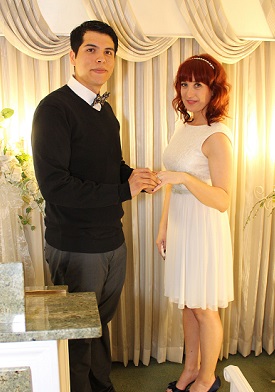 I've never wanted to have a big wedding. The idea of a big wedding sprung me into an instant panic attack as I became overwhelmed with the idea of party planning. I'm not a planner. I'm a doer. I've never understood people who plan for something up to a year in advance. However that kind of "logic" could explain why I don't have a savings account. When I hear someone say they are planning a trip to (insert destination here), my first thought is, "Why wait?" Waiting is something that impatient people such as myself, hate. Instead, you can just go, which eliminates time to think about your decision. This is a good thing for me because the more time I have to think, the more time I have to obsess over what can go wrong and how I really should be paying off my credit cards instead of taking a trip to Aruba.
Of course I understand why people plan, I'm just not one of those people. So when my husband and I decided to get married, we didn't wait. We went where all impatient lovers on a fixed income go – VEGAS! And it was the best decision for us.
Tying the knot in my 30's has allowed me to both attend and be a part of my fair share of weddings. The number one thing I hear from friends/family members after they have their big day is that they wished they would have ran off to Vegas or had a smaller ceremony and thus spent less money. Your wedding day is an important day, but it's also just a day. Some people want it to be the end all, be all of celebrations and then there's me. I'm allergic to seating charts and paying for people (I only see once every 5-10 years) to eat, drink, and dance to the Electric Slide. I consider myself a very nontraditional gal so I never intended to make my wedding anything more than one simple, yet special day for my future husband and me. No long engagement, no pre-wedding pictures of us in our Sunday best, holding hands while walking through a park in the fall. No engagement party, no save the dates. No fuss. No muss. Minimal planning was the plan so off to Vegas we went. The Chapel of the Bells to be exact.
Planning our Vegas nuptials was simple. We went to the chapel's website, picked a date and a wedding package. We selected the: "I Do Service With Transportation" – $195.00

Our economical package included:

Use of their Candlelight Chapel
Executive Car Transportation from our hotel, to the Marriage Bureau for our marriage license, to our chapel for our ceremony and back to our hotel.
Background Music
An audio recording of the ceremony. That's right, we received an actual CD of our vows, which included my husband's Freudian slip, "I take you, Joleen to be my AWFULLY wedded wife.
Custom Marriage Certificate
And Yes! The Minister's fee was included.
However, I was still missing one key element to a wedding, my dress. I've watched enough episodes of "Say Yes to the Dress" to understand what a big deal selecting a wedding dress is to many woman.  It's an event, one that includes weepy mothers, judgmental grandmothers and jealous single sisters. Since my family and closest friends live in Minnesota and I live in California, I didn't ask them to be there with me while I picked out my dress. My hope was that my trip to the bridal shop would take no longer than the average wait time for lunch at Chipotle.
My fiancé dropped me off at David's Bridal. Upon walking through the door, I was immediately greeted by a group of 20-something women with bright smiles and hopeful eyes. Hoping that I was a lucrative commission check, they approached me.
"First off, congratulations. When is the big day?" one of the women asked.
"January 12th," I replied.
"That's just two weeks from now. We better get started right away."
A young woman walked up behind me, put her hand on my shoulder and introduced herself. And before I knew it she was giving me a very friendly hug. A full on press the chest hug.
"I'm so happy for you," she said directly into my right ear." Her name was Mandy and she was my own personal dress consultant or as she described it, "I'm your best dress friend."
Mandy took me by the hand and escorted me down an aisle of wedding gowns in what appeared to be large Ziploc bags. Each dress was plump and glittery.
As we made our way through the maze of material, she asked, "What style of dress are you looking for?"
I hadn't thought about that so I replied, "A white one."
Mandy then pulled a dress off the rack. "This is a mermaid-style dress. It's one of my favorites. It's very feminine," she said as she held it up in front of me.
I was intrigued. I definitely wanted a dress that indicated to my husband that I was in fact a female so feminine seemed to be the direction I should go in. "This dress is actually on sale," Mandy added to her sales pitch. I looked at the price tag – $7,200.00
"Oh, I forgot to ask, what is your price range?"
Unlike style, I had thought a lot about price. When I told Mandy that I was looking for a dress between $75-100, she laughed as if my answer was a set-up to a joke. Unfortunately for Mandy, there was no punchline. All the excitement, hope and dollar signs were drained from her eyes.
"I don't know if we even have dresses in that price range," she said as she slowly hung the mermaid dress back on the rack. We had only been best dress friends for five minutes and already we were on the outs.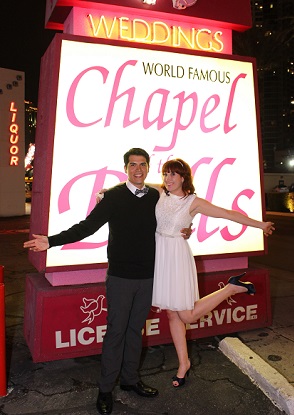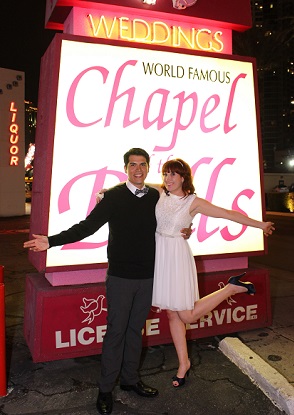 Despite her obvious disappointment, Mandy was very professional. She put a smile back on her face and went off to search the sale rack. To her surprise, she found three dresses within my price range. Once I tried on the second one, I knew it was the dress for me. It was a simple, belted, vintage-looking dress that hit just above the knees. Perfect for an elopement in Vegas, I thought. I walked out of the dressing room and told Mandy, "I'll take this one." She nodded her head in agreement, "You look beautiful. You have to ring the bell." The bell? She handed me a brass hand bell. "I'm okay," I said as I handed it back to her. "You found your wedding dress. This is an important moment in your life."  She again handed me the hand bell. "When a bride finds her dress, we ask that she close her eyes, make a wish and then ring the bell. Then everyone she's here with cheers for her." I looked around the store for everyone who was going to cheer for me, but there was no one. About 20 feet away was a jubilant woman standing on a small platform in a princess-style wedding dress with a large group of family and friends circled around her. They were smiling and examining her dress. They looked happy. After seeing them, it sunk in that I was completely alone. What I thought would be no big deal, had actually become a big deal and all because of this stupid bell.
I took a deep breath, looked at myself in the mirror, closed my eyes and rang the bell. When the bell stopped ringing, I heard nothing. No cheering. Just silence. "Did you make a wish?" Mandy asked. "Yes," I replied and then turned to walk back into the dressing room. My wish was that the bell had never been invented. As I changed out of the dress and back into my clothes, my hatred for the bell grew stronger. I even started hating anything with the word bell in it. Taco Bell, Alexander Graham Bell and Bela Karolyi (the famous Olympic gymnastics coach). I hated them all.
Finding my dress took all of 30 minutes, but it felt like three days. With my purchased dress in hand, I walked to the parked car where my finance was waiting for me. "That didn't take long," he said as I settled into the passenger seat. "So how was it?" he asked. He barely finished his question before I started crying. The kind of cry you try to fight, but knocks you out faster than Mike Tyson knocked out Michael Spinks in their highly anticipated 1988 Heavy Weight Championship Match – 91 seconds. Having this kind of information stored in my brain may be why I didn't have enough room to care about wedding details. I was in a full-on tear fest when my fiancé asked, "What happened?" To which I replied with big salty tears running down my cheeks, "They made me ring an effing bell."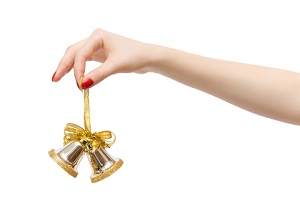 Never in my life have I unknowingly needed my mom more than I did that day at David's Bridal. And she would have been there in a second had I not assumed I was above tradition. Since then I realized that some things are sacred. Special. And deserve a little planning. Even if you're the most impatient of people.