Whether you're the bride, the bridesmaid, or the mother of the bride, you will likely find yourself asking questions like these: "Which wines should we have at our wedding, and should we just have wine, and how much wine should we have…?"
Planning a wedding and reception can become a mind boggling, time consuming, anxiety producing nightmare if you don't impose some limits, and some budget guidelines, right off the bat. The best advice for brides/friends/parents is "Keep It Simple." Offer a selection of a few wines at a price point you can handle; a few beers that you can pick to suit your crowd; and if you want liquor drinks, a signature cocktail that's special for the bride and groom.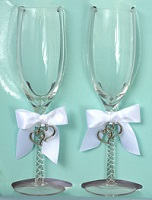 For your wine selections, plan on two whites and two reds. One white should be light-bodied and un-Oaked: think Pinot Grigio here, or Sauvignon Blanc. This could even be a Riesling if you have friends and family who like sweeter wines. The other white can be more full-bodied, like a Chardonnay with some barrel aging for those who like oaky/buttery whites.
Red wines span the taste spectrum, too, so go for an easier-drinking Pinot Noir or red blend that's light on the tannins, as well as a Cabernet Sauvignon for those who like bold and dry.
MONEY SAVING TIP: You can get away with spending less on light whites such as Pinot Grigio, so you can put more of your budget into good reds.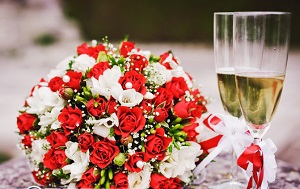 And yes, you can get something decent at almost any price point. There are values out there, particularly from countries such as Argentina or Spain, that can ring in around $8 per bottle. Of course, if wine is important to you and your friends/family, you can bump your average bottle price to $12 or $15, or even more. And remember to ask your wine merchant for a volume discount!
For beer selections, the "Know your crowd" rule also applies. Are they a Bud/Bud Light group, or do you have beer geeks who drink craft beers or imports? For the more sophisticated drinker, you can get away with an imported Pilsner or Lager such as Stella Artois, and an American micro-brew with more body and flavor, such as New Belgium Fat Tire or Sierra Nevada Pale Ale.
And if you really want to offer liquor, just choose a fun "signature cocktail". It can match your wedding colors (yes, you can create a drink in practically any color), or be a favorite flavor. Vodka, or flavored vodkas, are the most popular and versatile base for your cocktail.
Get some friends together to create your signature cocktail: experiment with Vodkas and some colorful and fruity liqueurs, and maybe a splash of soda and chunks of fruit. This is the kind of wedding planning that you'll love to do!
And finally — "OMG, what about Champagne for the toast?" OK, real Champagne is not necessary for a wedding toast. Ask your wine seller to suggest a nice Cava (sparkling wine from Spain) or Prosecco (from Italy), which are crisp and delicious and should run you $8 to $10 per bottle.
Remember that the point of this event is to share your joy and launch your future with the people who mean something to you. Don't go overboard on the alcohol — just keep it simple and fun, and focus on what's important. Cheers!