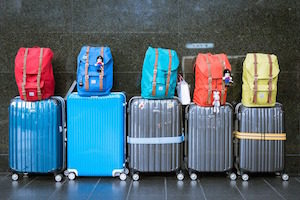 Tis the season for beach vacations and week long getaways. But before relaxing in the sand with a piña colada, the daunting task of what to bring must first be accomplished. Here are some tips to help avoid overpacking for vacations.
Tip #1
Check the weather to determine if the climate will call for a light sweater at night. This will help determine if jeans and a sweat shirt need to make it into your suitcase.
Tip #2
Layout outfits for excursions or dinners that are already planned. If you know for a fact the last night of your Hawaiian getaway will involve a luau, pick out your outfit and pack it. Have a planned day of hiking waterfalls? Make sure you have your shoes and hiking outfit ready to go.
Tip #3
Pack more bottoms than tops. Shorts, skirts and pants can be easily interchanged with tops or blouses. The key thing to remember is make sure the bottoms you pack can be matched with whatever tops you bring. Eliminate pants that only go with one specific top. A pair of pants can make five different outfits. You need less than you think, and many hotels offer laundry service should you find yourself in a bind.
Tip #4
Don't pack "maybe" outfits or items of clothing. Looking at a dress and thinking "I might wear it if I go there," is a recipe for guaranteed overpacking. "Maybe" outfits rarely get worn, just think of how many times you've packed one, or four, and never pulled them out of the suitcase. Only pack what you know you will be comfortable wearing.
Tip #5
The same rule applies to shoes. Don't pack three pairs of heels you have no use for. Instead pack a pair of shoes to walk in, sandals to wear casually, and a pair of shoes to dress up. Shoes will depend on the destination. Sightseeing Europe for two weeks? Two pairs of good walking shoes over a pair of sandals is the way to go. Hanging on a beach for seven days? Sandals and shoes that can get wet will be what you need to bring.
Tip #6
Don't pack what you can buy there. Large toiletries take up space and add weight to your suitcase. Buy travel size toiletries or consider waiting until you get to your destination to purchase the items you'll need. Hotels also have the essentials; shampoo, conditioner, and body wash. If there is a specific face wash that must make the journey with you, consider buying refillable travel bottles and bring just enough for your trip.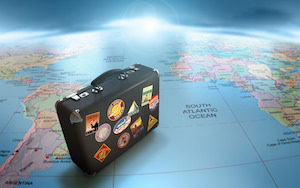 Tip #7
Pick a suitcase that isn't too big. The more space you have, the more tempted you will be to fill it up. Bring a size down from the initial size suitcase you plan on bringing. This helps eliminate overpacking because you have the room.
Tip #8
Pack light when leaving so you have room to bring goodies home. The maximum weight a suitcase can be when checking it in for a flight is 50 pounds. Don't max out the 50 pound limit, leave some room to bring home souvenirs.