After years of brainstorming and months of planning, SmartFem Entertainment TV is only a few weeks away from airing.
With the purpose of lending a hand and helping woman through common life obstacles, SmartFem has reached thousands of people nationwide. Sharing tips from SmartFem experts, real life stories and informative articles, SmartFem is unlike any other magazine in the market.
Visit SmartFem TV now
SmartFem founder Lea Haben (soon to be Lea Woodford)  knew that it was time to expand her company when she realized how much people appreciated real life stories and expert advice. Lea knows the importance of having hands on experience in film and production, so she decided to take a break from her busy life to gain the right skills in this field. Taking the magazine to another level has been Lea's dream and is now becoming a reality.
SmartFem's vision has been to empower women through this online magazine and now television. "I want women to step into their greatness and take things head on," said Lea. "To never let fear stop them, and keep moving forward," she added.
One of the very first days of filming was full of excitement, knowledge and oh so many personalities. SmartFem experts Linda Levin, Annette Loertscher, and Dr. Michael Breus were all present to share their insider tips on how to sleep better, look younger and live a more peaceful life.
Freelance makeup artist, Ian Leal was on set making sure everyone looked their absolute best in front of the camera. From touch ups to full glam, Ian didn't let one fly away go unnoticed. His hard work was definitely praised when the experts stepped in front of all the cameras.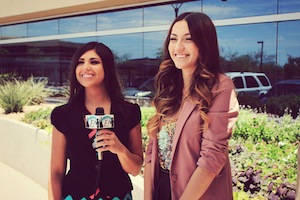 The one-on-one interviews are something you will not want to miss. The valuable amounts of information shared are quality tips from experts that are exclusively sharing with SmartFem Entertainment TV.
It wasn't all solely left to expert opinions however. Feet on the Street will be one of many segments emphasizing people's opinions on current topics. SmartFem Entertainment TV wants your take on current issues and to be able to share it with women in our community. After all, adding a face to the story helps us get a better understanding for it.
If you're anxious to see what SmartFem has in store, you wont have to wait much longer. SmartFem Entertainment TV is scheduled to launch by the end of August.
To see more behind the scenes photos, visit SmartFem's Facebook page.