Classic, Low-Cost Valentine's Day Dates
Valentine's Day is, as many of us know it, a holiday reserved for buying candy we don't eat, going to expensive dinners, and buying new clothes or lingerie for a significant other.
Time reports
Americans will spend an average of $19 billion on the holiday this year, with the individual spending about $150.
That being said, save some extra cash this Valentine's Day and do something romantic and cost effective.
Stargaze together- Is your valentine a sucker for the classics? Drive to your local park or deserted lot where there aren't a lot of lights and noise, unplug, and look up. Extra points for printing off a map of constellations to point out and look for with your boo.
Take an intermediate hike- I say intermediate because there is a difference between making the 20 minute hike down your local trail verses an hour or more hike up a mountain, hill or other natural structure. When you and your partner make it to the top you will feel like you can do anything. Except maybe climb back down.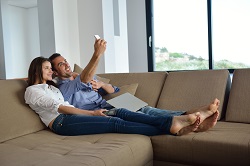 Have breakfast for dinner-
Kids love it. Adults are secretly excited about it. Your partner will without a doubt be thinking about it for the rest of the year. Making breakfast together (at dinner time) is cute and classic. Make some heart-shaped pancakes if you really want to turn up the heat.
Netflix and chill- This may seem banal for those who frequent the streaming site, but there are so many hidden gems on Hulu and Netflix. Pick a spooky documentary, a beloved classic, or a delightfully terrible film and cuddle up with some snacks. This is a great one for those couples who find themselves too busy to ever go out and do anything. If your work schedules allow it, unwinding together after a long day is the best.
When it comes to low-cost dates for Valentine's Day, simplicity is key. Spending time together is the most important thing.