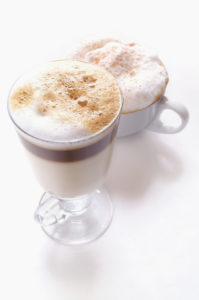 Fall is officially here and if you're like me, you're celebrating!
Cooler weather, sweaters and scarfs, and leaves changing. Okay, Arizona may not get the kind of fall season New York does, but we still relish in every moment of the much welcomed season.
And one of my favorite parts about fall is all the yummy scents like pumpkin, cinnamon and vanilla that fill the air.
Not only do these flavors remind me of all the delicious desserts that we will soon be indulging in, but they are also great flavors for your morning coffee, which can finally be enjoyed hot!
Here are three fabulously fall flavored coffee drinks to warm you up as the weather begins to cool down.
Gingerbread Spice Coffee
1 cup ground coffee

1 tsp cinnamon

1/2 tsp ground ginger

1/2 tsp cloves

1/2 tsp ground nutmeg
Pour spices into a jar followed by the ground coffee of your choosing. Mix contents together and keep stored. Brew the spiced coffee grounds as normal. The mixture of spices will create a warm seasonal coffee. Add your favorite creamer if desired.
Pumpkin Spice Latte
2 tbsp pumpkin puree

2 tbsp maple syrup

1/2 tsp pumpkin pie spice

1.5 cups milk

1 tbsp vanilla extract

1.5 cups brewed coffee

Whipped cream and caramel sauce if desired for garnish
In a medium saucepan combine the pumpkin puree, maple syrup, and pie spice and bring to a simmer on medium-high heat. At a low simmer slowly add the milk, or almond milk for a diary-free option, to the saucepan followed by the vanilla. Stir until combined and allow the mixture to come to a low simmer. Remove from heat and pour into a blender. Pulse the blender until the mixture is foamy. Add the mixture to your favorite brewed coffee and enjoy!
Caramel Vanilla Chai Tea
2 cups water

2 peppercorns

3 whole cloves

1/8 tsp nutmeg

1/4 tsp ground cardamom

1/4 tsp ground ginger

1 cinnamon stick

2 black tea bags

1 tsp vanilla extract

1/2 cup milk or almond milk

Caramel sauce
Combine water, peppercorn, cloves, cardamom, ginger, nutmeg and the cinnamon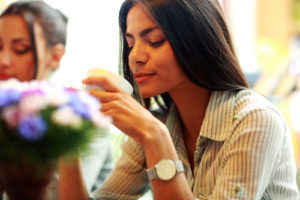 sticks together in a saucepan. Bring to a boil and allow to boil for five minutes, or longer for more flavor. Remove from heat and add tea bags. Allow to steep. Stir in vanilla and caramel sauce, about 2 tbsp. Next, heat the milk in a microwave-safe bowl for 15-20 seconds to avoid curdling when added to the tea. Add the warm milk or almond milk to the spiced tea and serve with whipped cream and caramel sauce drizzled on top.