Clock Shows Where Your Friends And Family Are In Real Time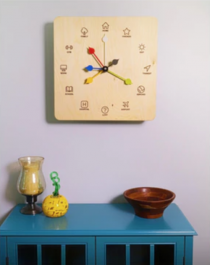 There is a new gadget on Kickstarter and it shows where friends and family members are in real time.
For those who are Harry Potter fans, the clock might bear resemblance to the Weasley's family clock. The magical gadget's arms move around whenever a family member arrives at a new destination.
The clock works in a similar manner, only this one isn't running off magic and doesn't use spoons for the clock arms with the face of each family member.
Instead, the Eta Clock, a clever play the ETA acronym which stands for estimated time of arrival, works in conjunction with an app. The app allows the user to set up locations in order to track specific people.
The face of the clock has common destinations instead of numbers. Places like "gym" and "school" are just some of the destinations users can choose from.
Let's say a mother has five kids to worry about. Through the app she can select each child from her phone's address book and program destinations to each spot the clock has.
Users program the spot by titling it, adding the address, and labeling it. For example, Daughter A could be at "school" when her phone's GPS tracks her going to ASU at 1151 S. Forest Ave in Tempe, AZ.
Places like the gym, home, hospital, and even transit are all locations the user can set to specific friends and family members.
There is even a "lost" feature which comes up if a specific person hasn't had their location updated in five or more days.
DC Creatives, the company behind the clock, have also taken into consideration privacy when manufacturing the Eta Clock. Data is deleted once it is sent to the clock to update a location. Users can even choose to what extent location information is shared.
The clock is currently available on Kickstarter for $350 and orders are expected to ship in July 2018. For more information, or to see a demonstration of how this magical clock works, check out their website on Kickstarter or watch the demo video below.