Rocking the red carpet means more than just donning a designer gown and wearing Harry Winston jewels. It also means making an entrance and a lasting impression. Any good stylist knows that one of the most important accessories needed to make that statement on the red carpet is a hot car. SmartFem reviews the 2015 Infiniti Q60 Convertible and learns exactly what it means to make an unforgettable entrance while embracing luxury, comfort and a whole lot of fun.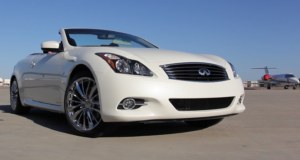 As the temperatures in the valley begin to drop, the galas, charity benefits and red carpet events kick into high gear. Your fabulous car is just as important as your fabulous couture. Having a car like the Infiniti Q60 Convertible is not about practicality, it's not about economy. It's about rewarding yourself for your hard work while making a bold statement. The Infiniti Q60 Convertible is a fun car, it's a fast car and it's an impressive car to look at from both inside and out.
The Infiniti Q60 Convertible featured in this review was provided by Coulter Infiniti of Mesa, Arizona. Coulter Infiniti is supporting Camp Soaring Eagle's upcoming fundraising Gala being held November 14 at the Signature private jet terminal of Scottsdale Airport. Camp Soaring Eagle is a charity dedicated to helping seriously ill children and their families to heal through the power of fun, laughter and friendship.

Other featured sponsors include Evans Furs and Leathers of Scottsdale and Elite Flight Training of Scottsdale both featured in the upcoming television spot with the Q60 Convertible to help raise awareness for this fabulous upcoming event.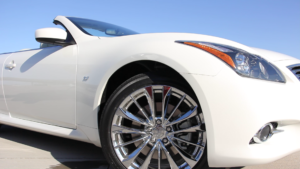 For our review and photo shoot we had the opportunity to drive this amazing machine for the weekend and it was an unforgettable experience! The classic lines and beautiful "moonlight white" paint definitely turned a few heads while the upgraded leather and Silk Obi aluminum accents made the experience even more luxurious from the inside.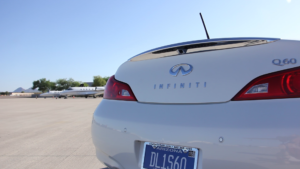 Personal indulgences aside, the Infiniti Q60 Convertible has some impressive technology underneath. The 3.7-liter V6 engine provides an adrenaline pumping 325 horsepower while offering fuel economy on par with far less powerful sedans. That power is distributed over a wide torque curve allowing rocket like acceleration from either a dead stop or while passing on the highway.
There are impressive safety features such as high tensile steel construction, automatic brake stability, enhanced rollover protection (rear roll bars pop up automatically when needed behind the rear seat to protect the passengers in the back) and a laser sensing automatic collision protection system which provides input to the cruise control and braking system to reduce the likelihood of a collision.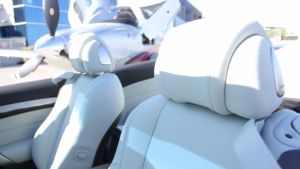 The Infiniti Q60 Convertible's automatic climate control was effective even on the highway with the top down. We were also impressed with the clarity of the hands free Bluetooth phone connection which is an often overlooked yet extremely important safety feature. Being able to talk safely and comfortably on your phone while cruising at highway speeds in a convertible is a significant capability these days.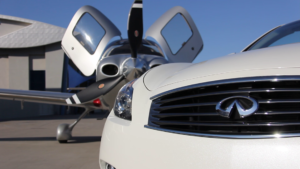 Treat yourself to this car from Coulter Infiniti and then join us at the fabulous Camp Soaring Eagle gala this November. When you pull up to the red carpet in this Infiniti Q60 Convertible and make your dramatic entrance for the crowd, you can feel comfortable knowing it's not for them, it's for you and those children!